Over the weekend via social media was announced the apprehension of ten people associated with a criminal cell. This all apparently took place following an exchange of gun fire between security elements and those arrested. Judging by the pictures released showing the vehicles seized, which look taken when the sun was not up, I'm going to say assume this took place overnight Saturday, early morning Sunday. Seized were six long guns, assortment of ammunition, 25 handcrafted explosive devices(which from the last reporting I think might mean grenades), various tactical equipment, and 26 caltrops. Of those arrested, three were from Jalisco and three from Colima, the rest residences of Guanajuato. The two vehicles were not stolen and had out of state registrations, one to Jalisco the other Aguascalientes.
Location
All of this took place in Rincón de Tamayo which is a small community to the south of the city of Celaya, but still within the municipality. There was a similar apprehension announced on last Friday which I wrote about here. That one took place up the road in a neighborhood called Villas del Romeral.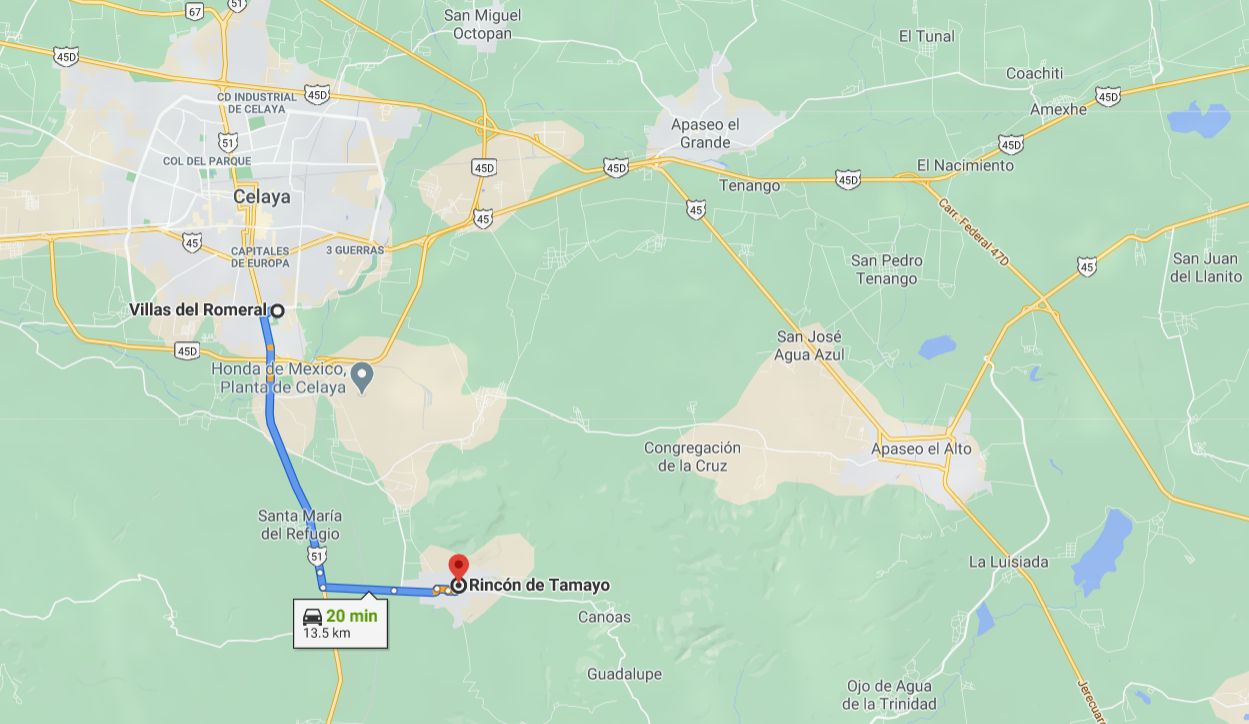 Looking at the map you can see the distance between the two operations. Rincón de Tamayo is unfortunately no stranger to this kind of activity. It has been a hot spot for the last couple months with the supposed conflict between CJNG and CSRL taking place. As I mentioned above Rincón de Tamayo is still located in the municipality of Celaya. Pictured below is a map showing the municipal borders of that area.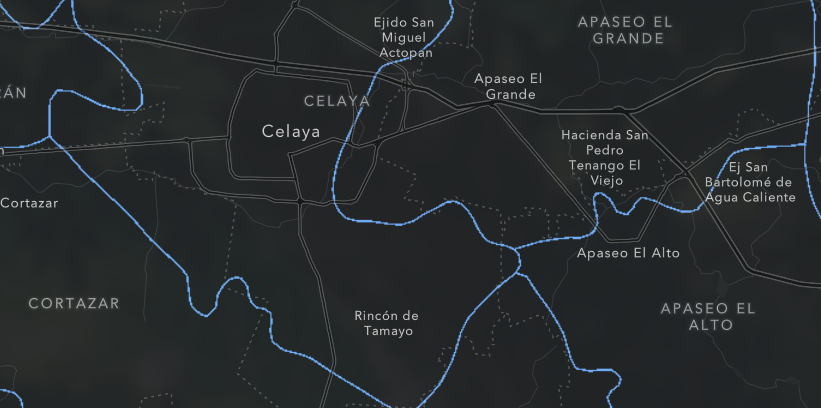 The two municipalities to the right of Celaya are Apaseo el Grande and Apaseo el Alto, on the other side of them is the state of Querétaro. On the left side you have Villagrán and lower left side you have Cortazar. It's really in and around these municipalities that things between CJNG and CSRL have been focused the last couple of months.
Criminal cell
The government typically tends to not name the larger organization directly in these announcements unless it involves someone larger and more well known to be associated with the group. Hence why the words criminal cell are used in their postings. From looking at the pictures we can see a tactical vest with CJNG and looking at the cardboards we can observe they resemble ones that are left signed CJNG. As discussed previously and as we will continue to discuss in the future is the question of association.
Thinking about the association is always worthwhile. Especially as some of our past understandings about these criminal groups start to be changed by present observations. The main one to consider being the structure and organization of such groups.
Weapons
• 01 long gun, rifle type, caliber .223 mm, black Tharms brand.
• 01 long gun, rifle type, caliber .223 mm, black Anderson brand.
• 01 long gun, rifle type, caliber .223 mm, black Bushmaster fire arms brand.
• 01 long gun, rifle type, caliber .223 mm, black Smith and Wesson brand.
• 01 long gun, rifle type, AR-15, black color Smith and Wesson brand.
• 01 long gun, rifle type, caliber .223 mm, black Karris Gunss brand.
• 22 magazines for long guns.
• 483 useful cartridges caliber .223 mm.
• 100 useful cartridges caliber 7.62 mm
• Total insured useful cartridges of various calibers: 583.
Explosive devices
• 25 handcrafted explosive devices. (assumed grenades)
Tactical equipment
• 06 charger holders.
• 04 ballistic helmets.
• 09 ballistic vests.
• 18 ballistic plates.
• 11 cell phones.
• 26 stars punches tires.
• 06 cards with various messages alluding to a self-styled elite criminal group.
Cardboards
In an apparent mistake, the government uploaded the uncensored picture with their Facebook post versus the censored one that was with the Twitter post. Regardless, that helps us out because the operation reported on Friday we didn't have an uncensored version.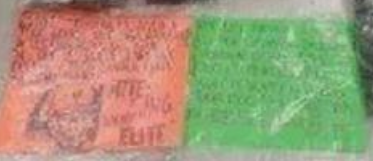 The picture quality is garbage, I looked for a higher quality version but was unable to find anything. But two things are decipherable and notable. One is the skull wearing a beret with what looks like a rooster, second we can make out to be the word elite. This is not the first time that we have seen the skull pop up on a cardboard. The most recent I can remember off the top of my head being Oct 5 in Celaya.

How to interpret
We have seen over the last couple weeks almost non-stop usage of the infamous cardboard by both groups but moreso by CJNG. I can't remember a time in the last year that I have seen things so consistent and non-stop. It got to the point where I started questioning what could be different. One of my areas of specialty is sourcing things posted to social media. Looking closer I noticed an account on Facebook that was very evidently the source for many pictures of cardboards, all of which where taken up-close and with a clear view. This account has since been deleted which is disappointing because prevents any furth investigation.
This is the second group of people arrested in a couple of days with cardboards. Like any single arrest it's hard to conclude that this will impact things much overall. Obviously cardboards are the furthest things from irreplaceable and can easily be recreated and left by new people. But what will be interesting is to observe if the apprehension of people with them will turn off people from using them. Not because they are afraid of being caught but because in some ways the more people that are caught with them, the more they loose their allure. And now with the arrest of El Azul taking place yesterday, who knows what the future holds for Guanajuato. I imagine that it will in somes ways only encourage CJNG to continue heavy usage of cardboards in an effort to further solidify their self-proclaimed role in the area following his arrest.
---
Sources
[1] https://www.facebook.com/776394102389077/posts/3982793531749102/
[2] https://twitter.com/SeguridadGto/status/1315365578639638536
[3] https://www.elsoldelbajio.com.mx/policiaca/tras-enfrentamiento-desarticulan-celula-delictiva-en-rincon-de-tamayo-arsenal-vehiculos-explosivos-estrellas-celulares-5875141.html
[4] https://guanajuato.lasillarota.com/estados/capturan-a-10-sicarios-del-cjng-en-rincon-de-tamayo-tras-balacera-celaya/443196
[5] https://www.unotv.com/estados/guanajuato/caen-10-presuntos-integrantes-del-cjng-en-guanajuato/