Last week (April 15, 2021), Congressmen Chip Roy introduced a revision of his Drug Cartel Terrorist Designation Act calling for the classification of the Cártel del Noreste and the Metros faction of the Cártel del Golfo as foreign terrorist organizations. The same day, Texas Governor Greg Abbott wrote a letter to the Biden Administration urging them to designate "major Mexican cartels like Los Zetas and the Gulf cartel" as terrorist organizations. Roy's bill and Abbott's letter are unlikely to persuade the Biden administration to take action, but the coordinated gestures are a preview of the platform that the GOP will be campaigning on both in the midterms and in the next presidential election.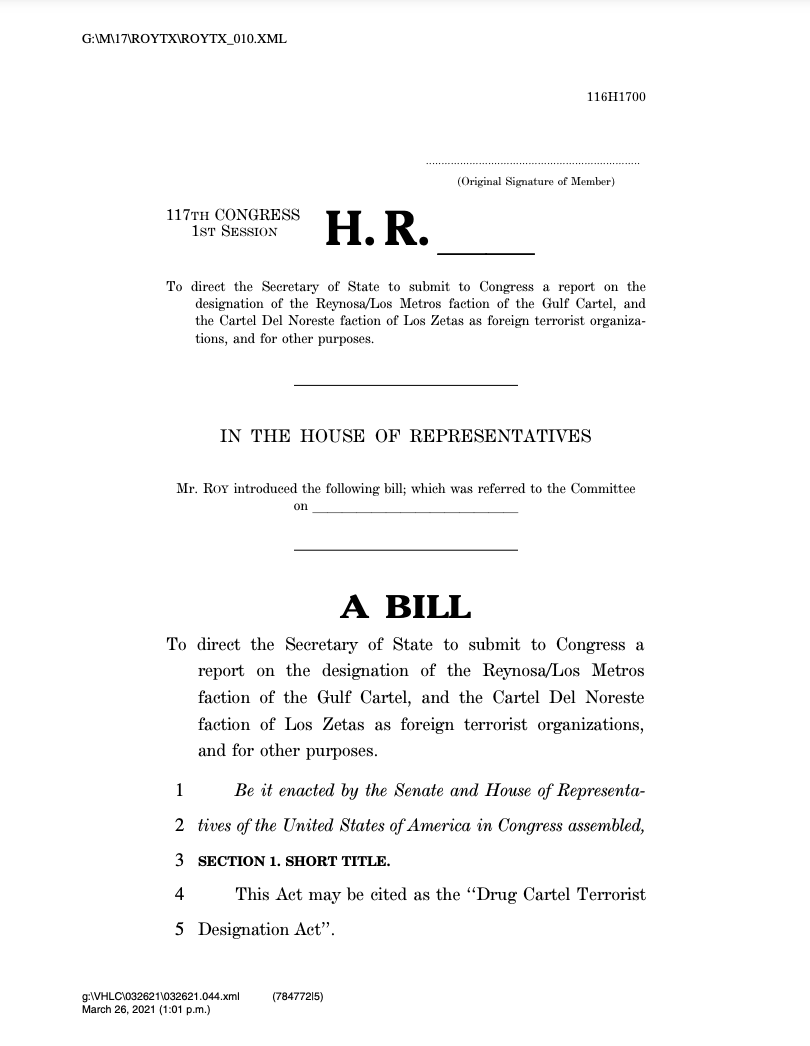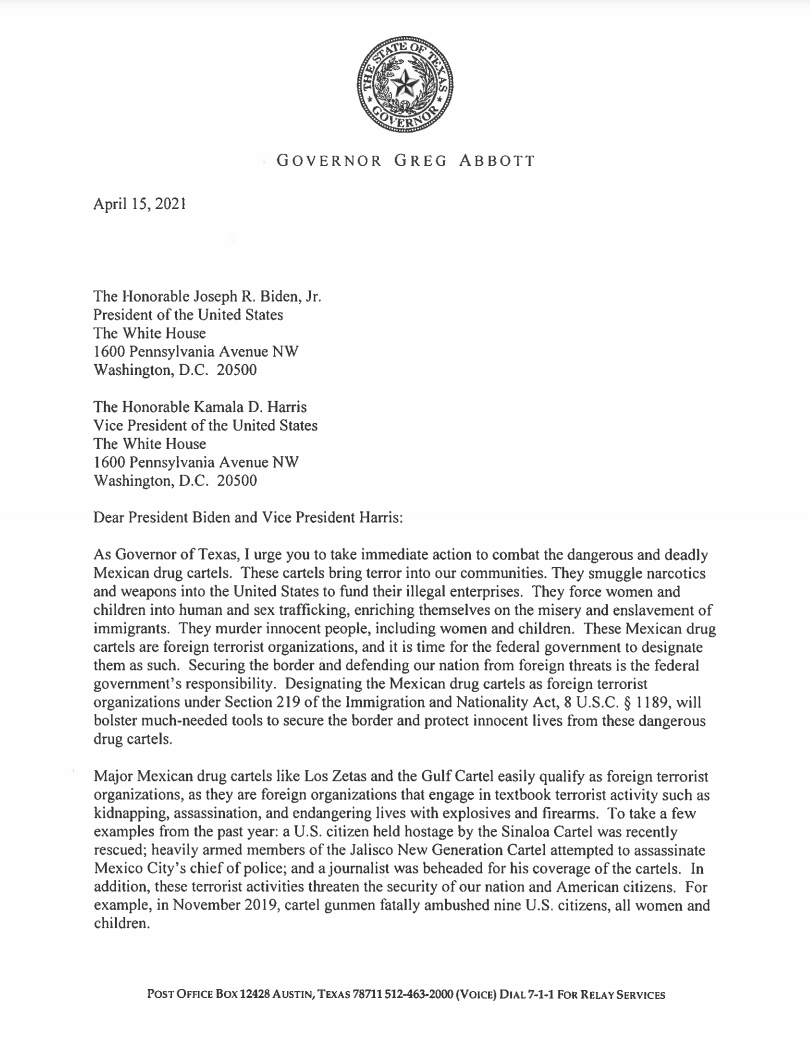 Donald Trump's 2016 campaign has shown that the subject of immigration can be used to great effect with an electorate receptive to anti-immigrant demagoguery. The GOP is already at work crafting a narrative about a border in chaos being overrun with migrants through stunts like the Republican Senators' recent late night trip to the border.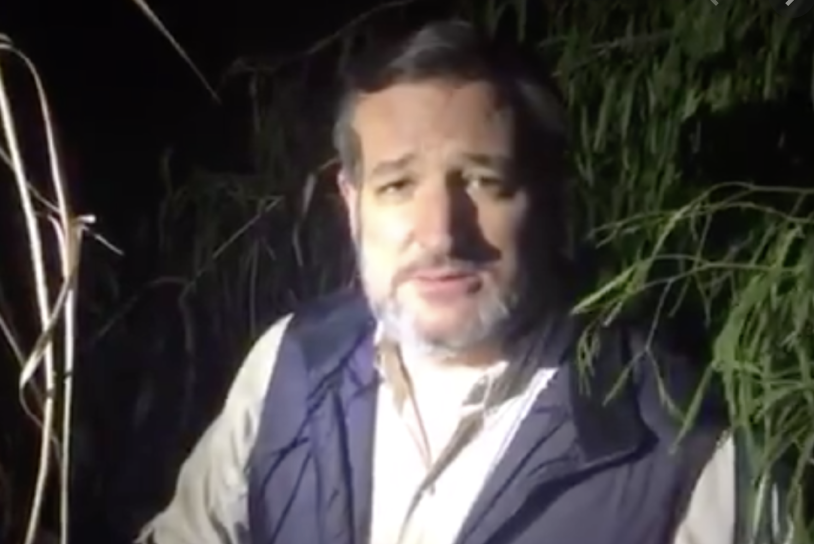 ---
Recently, a law firm in Houston specializing in white collar criminal defense has started representing Tamaulipas Governor Francisco García Cabeza de Vaca apparently in the midst of his ongoing legal and political troubles. According to disclosures published in compliance with the Foreign Agent Registration Act (FARA), the firm Gerger, Hennessey & McFarlane took a $100,000 deposit from Mariana Gomez García on April 12 for services which included:
…communicat[ing] with representatives of the US government in writing and possibly by telephone or in person to educate officials of the Executive Branch and possibly Congress, to mitigate the effects of the disclosure of confidential information to the Mexican press and to discourage and prevent future disclosures.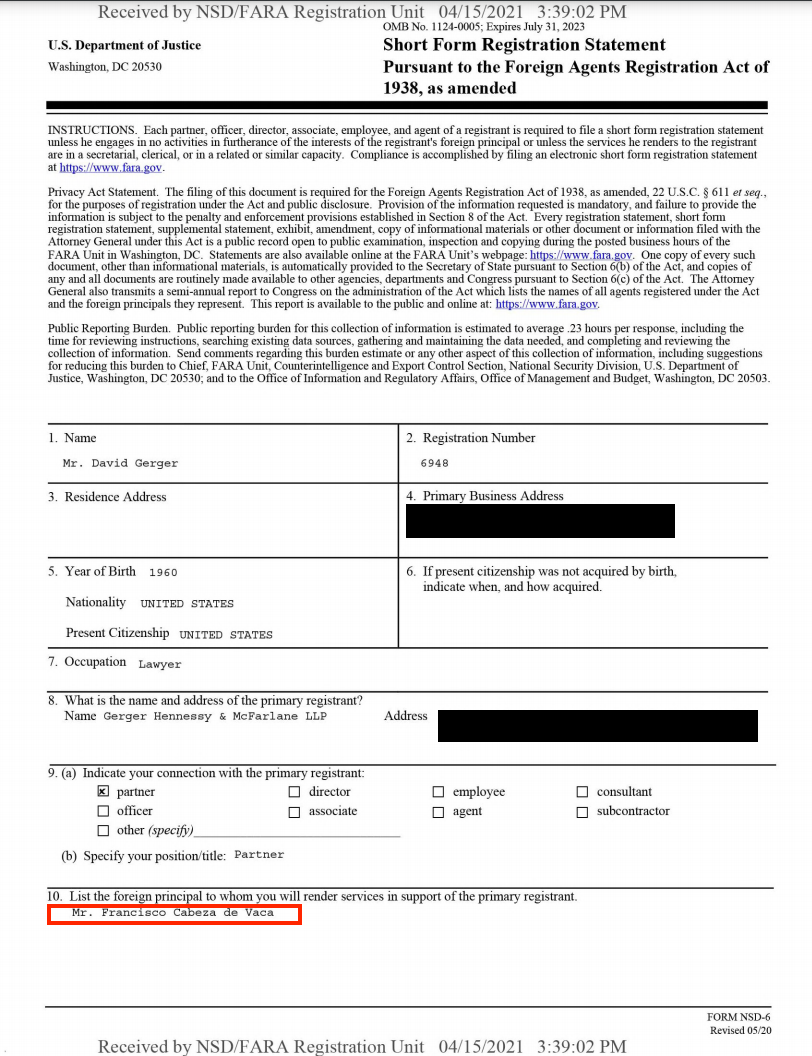 So far, their work has consisted of drafting a whiny letter to the head of FinCEN complaining about alleged leaks of confidential information by Mexico's Financial Intelligence Unit (UIF) to the press. The letter alleges that personnel from the UIF leaked information from FinCEN about suspicious financial transactions by the governor and members of his family. Curiously, the FARA paperwork was filed on April 15, the same day that Governor Greg Abbott's letter to the Biden administration was published and Congressman Chip Roy's revision of the drug cartel FTO designation bill was submitted. It sounds like Cabeza de Vaca's wife is getting her money's worth.
Best of luck to the governor with his upcoming process hearing next week. ✌️