The following is a translation of reporting from Óscar Balderas that was originally published in Emeequis on March 5, 2021. The name 'Las Vacas Locas Cartel' may be a creative embellishment but every allegation presented here is credible.
Alejandro Rojas Díaz Durán explains to EMEEQUIS the current and forthcoming evidence against the governor of Tamaulipas in the hands of the FGR: he recruited assassins, handed over a city to a cartel and even participated in a kidnapping.
EMEEQUIS - The governor of Tamaulipas, Francisco Javier García Cabeza de Vaca—currently accused of organized crime by the Attorney General's Office (FGR)—recruited hitmen from the Gulf Cartel and made them members of his elite police force.
This was revealed to EMEEQUIS by the alternate senator for Morena, Alejandro Rojas Díaz Durán, who has delivered reams of documentary evidence against Cabeza de Vaca to the federal government and whose contributions are considered key in this judicial proceeding.
"It is an elite group that kicks in doors, that takes people away with impunity, never to be seen again. They also kidnap migrants, recruit them, force them to join them or transfer drugs to the United States, and then they murder and disappear them," says Alejandro Rojas Díaz Durán in an interview.
These uniformed hitmen are part of a group known as GOPES, a police special operations group, that reports to the Tamaulipas governor and currently has 12 members in state custody for the massacre of 19 migrants in Camargo, Tamaulipas.
"We have proof, documentation, testimonies, that many of them are not even registered on the state payroll, that is, they are not public servants. The governor disguises them, throws them into the street and they have executed Mexicans and Central Americans".
The evidence that Francisco Javier García Cabeza de Vaca has hired assassins to commit "a genocide" in Tamaulipas, said Díaz Durán, will be delivered soon to the FGR.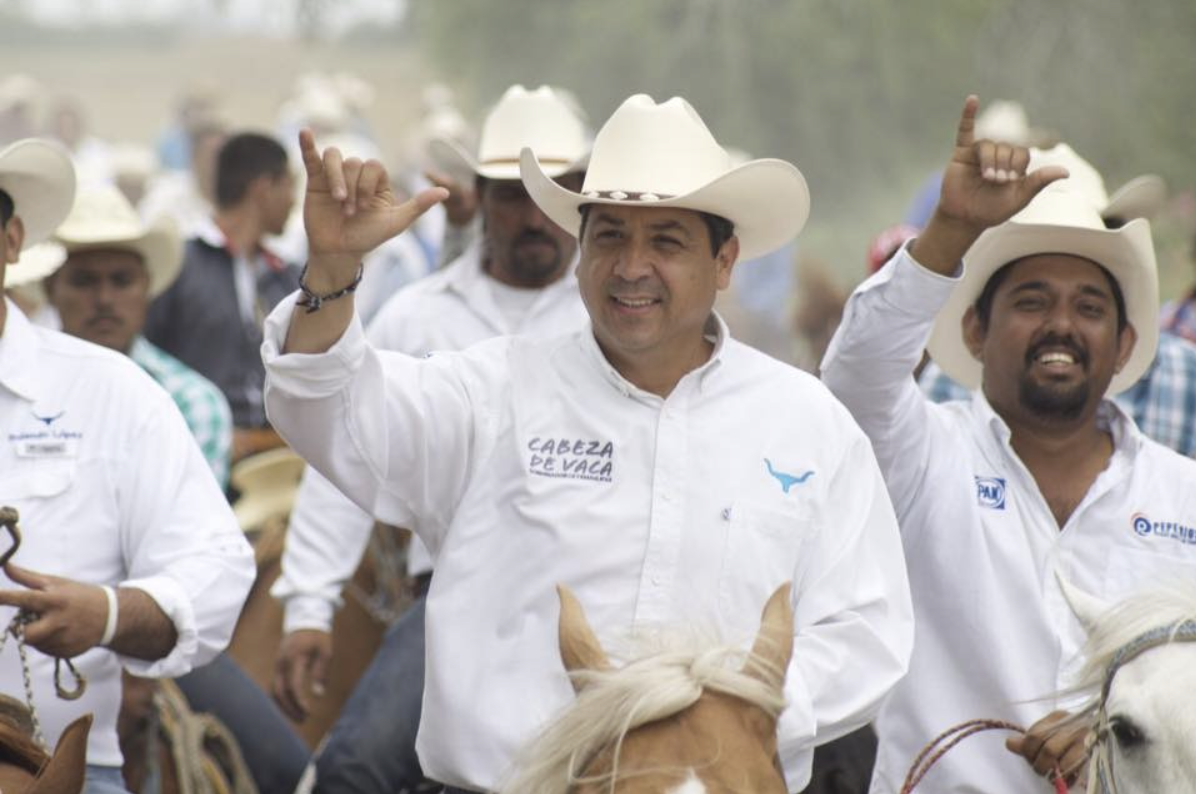 FROM THE SON OF A MECHANIC TO A MILLIONAIRE POLITICIAN
The governor of Tamaulipas is a dangerous man, says Díaz Durán. An autocrat who has made his way into local politics using bravado and fear, backed by a fortune created under the cover of criminal power.
"In 2018, in the presidential elections, Ricardo Monreal was the general coordinator of the Andrés Manuel López Obrador campaign in all the constituencies and I was the vice-coordinator. Since we arrived in Tamaulipas, the president himself warned us to be careful because it seemed that there was government complicity with criminals."
"We felt a very strong pressure. Personally, I was stopped three times, they almost took me out of the vehicle, people who didn't even identify themselves ... you know what kind of people".
That fortune is estimated at about $952 million pesos, according to the evidence that Díaz Durán gave to the FGR, which would have been accumulated through dozens of properties in Mexico and the United States bought in secret thanks to a money laundering network that includes businessmen and drug traffickers.
"His father was a modest man who had a small mechanical workshop in a popular neighborhood in Reynosa. And now he says that his father supposedly inherited a fortune of $10 million from his family, something impossible for someone this modest."
"Actually, he made a fortune thanks to being lucky enough to win over the daughter of a fuel transportation company owner. His father-in-law is very involved in huachicol (fuel theft) and paid him the campaign to make him mayor of Reynosa (between 2005 and 2007) and to help him with dirty business. There he began his criminal career in politics, because he was just a criminal for a long time".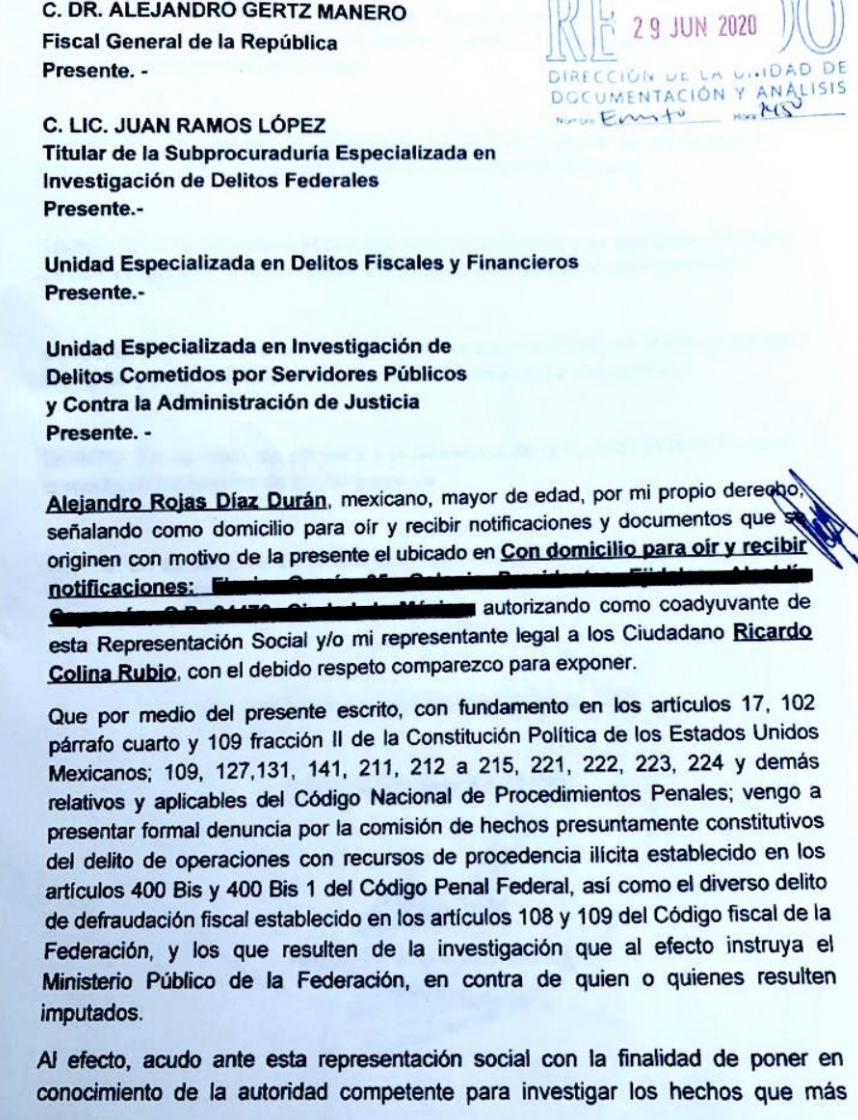 THE CABEZA DE VACA-GULF CARTEL CONNECTION
The reference made by Morena's alternate senator is to a criminal record in the United States against Francisco Javier García Cabeza de Vaca, who was allegedly arrested during his adolescence for an armed robbery along with two of his friends.
Since then, the PAN governor has been haunted by accusations linking him to criminal activities: one of the most recent, held by United States authorities, is the testimony of a member of the Gulf Cartel who claims to have witnessed how the gunmen of cartel boss Osiel Cárdenas Guillén gave him money for his mayoral campaign.
"The testimony about the Gulf Cartel alliance is from a witness whose testimony helped put former Tamaulipas Governor Tomás Yarrington in jail today. That same witness describes how they gave money to Cabeza de Vaca so that they would allow him to control the plaza in Reynosa during the administration of Felipe Calderón".
In that same file, he says, there is an anecdote in Reynosa: Cabeza de Vaca used to give permits to the drug trafficker Osiel Cárdenas Guillén for the Gulf Cartel to use public spaces for toy giveaways every Children's Day.
"It was always known that he was very involved with that group… what we did not know is that, as he gained power in Tamaulipas, Cabeza de Vaca would form his own cartel. In the state they have a name: "Las Vacas Locas Cartel", says Díaz Durán.
THE GOVERNOR'S HORNS
This is a horror story told by Alejandro Rojas Díaz Durán. A story that, he says, perfectly portrays the debasement in Tamaulipas and the governor's criminal connections. It is a narrative without names, because among Tamaulipas society they don't need to know who the protagonists are.
One day, the Dean of the Autonomous University of Tamaulipas (UAT) received a communication from Governor Cabeza de Vaca to request that he take the necessary steps for Contact to become the new Secretary of Administration of the highest state university, that is, the man who handles the money of the university system.
The Dean reminded the governor that the UAT is autonomous, but Cabeza de Vaca surprised him with another reminder: nobody says no to him. Out of fear, the Dean changed his position and told him that he would personally make the proposal that Contact be the new high official of the university, but the university council would have to approve it and he had no influence over them.
Weeks later, as the Dean had anticipated, the university council rejected the governor's proposal. Contact didn't have the experience or track record for such an important position, so someone else was hired.
A few days later, a young relative of the Dean was kidnapped. He spent two weeks in a safe house. He did not reach the third week in captivity because the new Secretary of Administration was fired and Contact was suddenly hired for the position.
When the young man returned home, the Dean saw to his horror that three fingers of the relative's hand had been cut off. They only left the thumb and little finger to make it appear that the victim would always make a sign of horns with his hand.
"This signal is the one that Cabeza de Vaca uses with his supporters," says Díaz Durán. "It was the signal for the Dean to know who the message came from."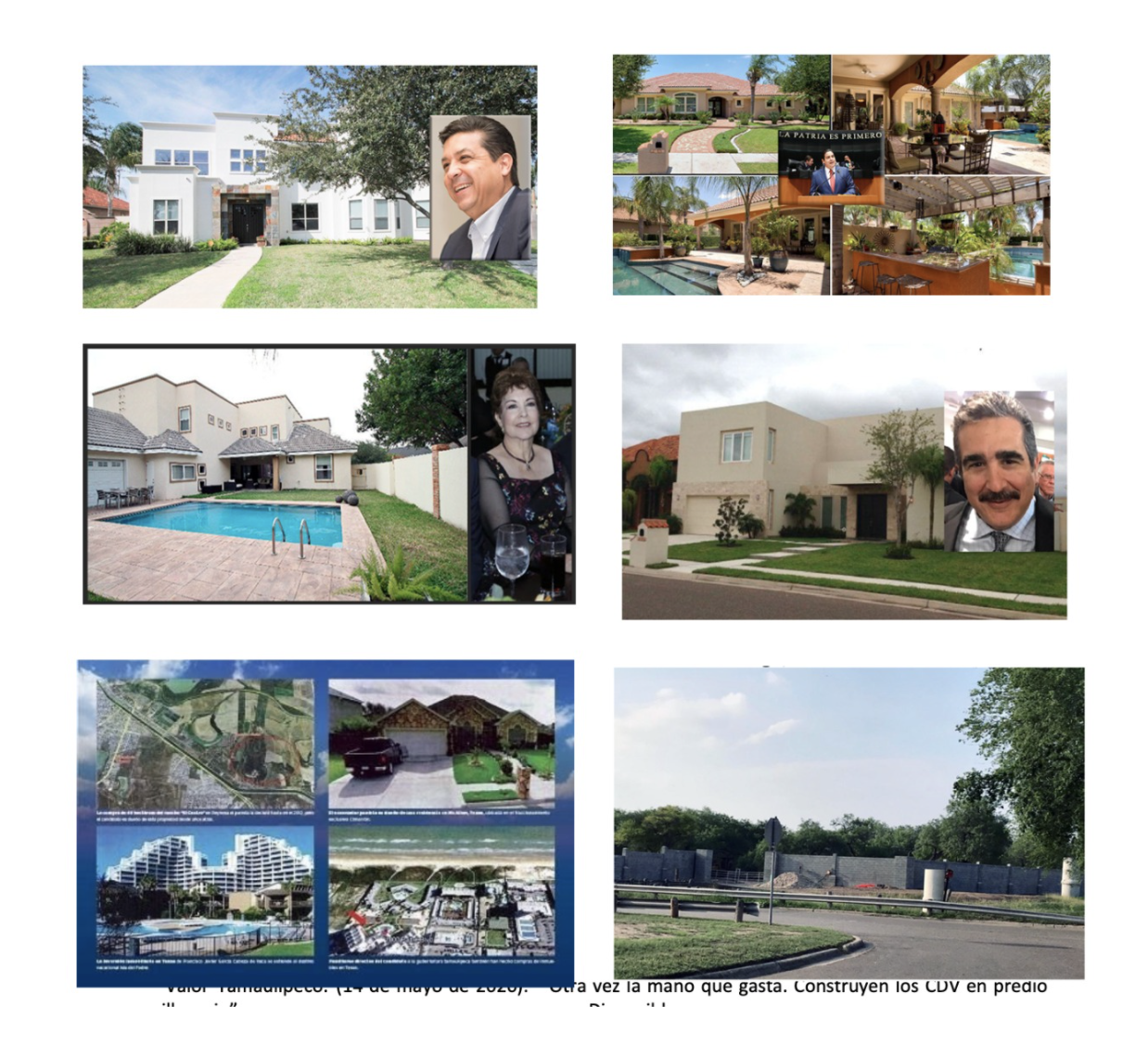 "SOONER OR LATER YOU WILL PAY"
"They call it the Las Vacas Locas Cartel because, although Governor Francisco Javier is the leader, his brothers are also part of his criminal network," says the Morena deputy senator.
The charges that the FGR attributes to him for organized crime, operations with resources of illicit origin and equal tax fraud are just a sample of all his illegal activities, says Díaz Durán; we should add theft of gasoline, natural gas, extortion, kidnapping and, if it is proven that of his team of uniformed exterminators like the GOPES, even crimes against humanity.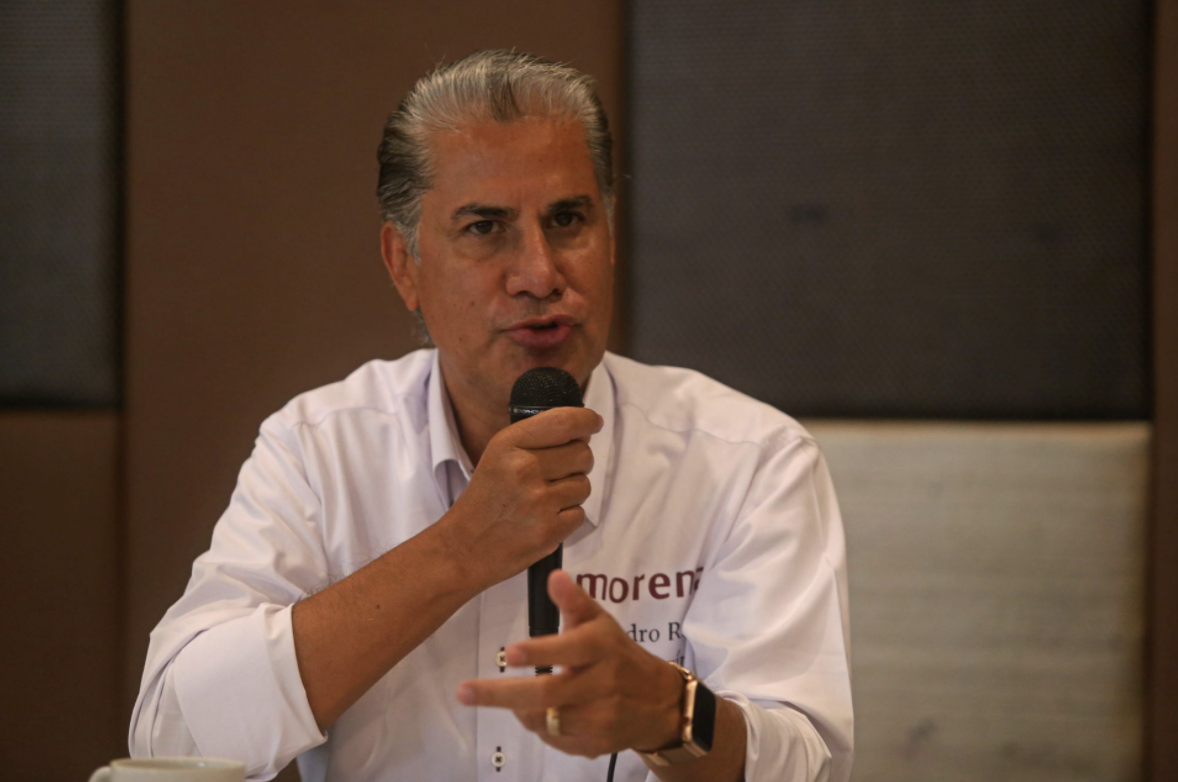 After years of investigations into the governor of Tamaulipas, Díaz Durán feels confident in stating that the Cartel de las Vacas Locas is a family clan in which the brothers of Fracisco Javier, his mother, his wife and his father-in-law participate, who have looted the state through million dollar public contracts for phantom works and whose money they have transferred to more than 300 bank accounts in tax havens.
"The Financial Intelligence Unit already has these accounts located, there are already some frozen and they are going for more. It makes me sad that the 'ruler' has put his mother in this ... it's terrible ... the ambition of these people has no limit".
In the coming weeks, more evidence will be added to the lengthy file that the FGR has on Francisco Javier García Cabeza de Vaca, the governor who insists that everything is a campaign of harassment against him for his political affiliation from the opposition.
"He can say what he wants, he can invent persecutions he wants… but the evidence is very solid. He and his family acted as if the state were their ranch and no, it isn't like that," says Díaz Durán. "They will pay. Sooner or later they will have to answer for what they did to this beautiful state".
@oscarbalmen