Yesterday afternoon around 2:00 PM the discovery of human remains was made on the Jerécuaro-Apaseo el Alto highway near the community of El Sarampión. A video uploaded to social media shows the scene that held up traffic. It was confirmed this evening that one of those discovered was Jesús Tinajero, a former Morena candidate for the municipal presidency in 2018. REFORMA is reporting that a total of four men were left, other press sources say it is only three.
Also left was a cardboard appearing to come from people associated with El Marro, the kingpin of the area arrested at the beginning of August. Towards the middle to end of August his people were leaving cardboards frequently but over the last two weeks it has mostly been cardboards from CJNG associates. Though a body hanging from a bridge discovered the other night included a cardboard attributed to Marros people.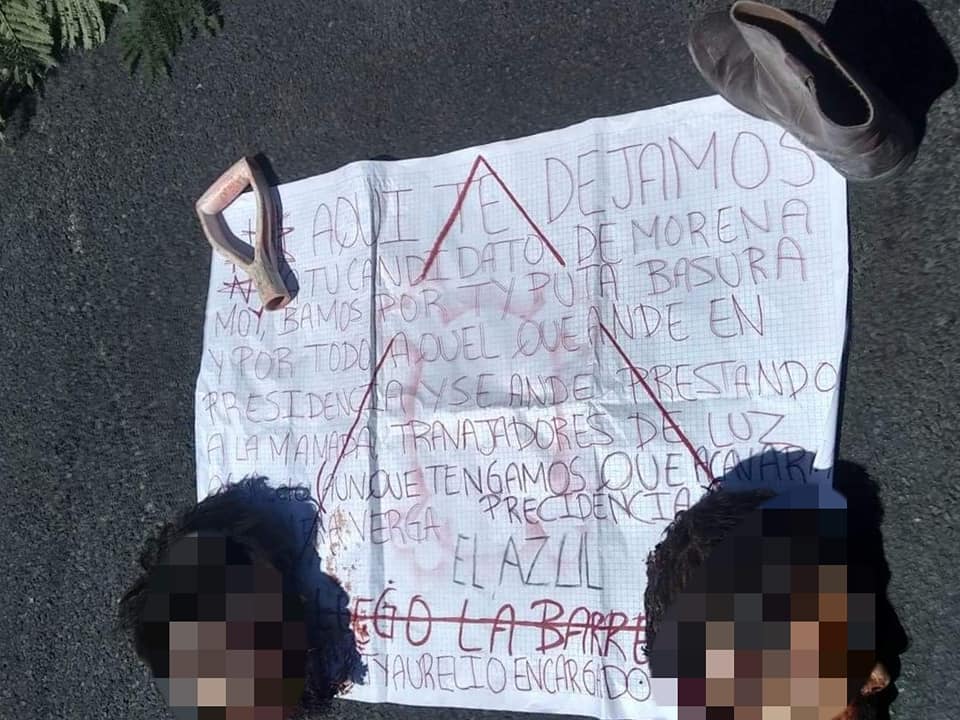 Here is your MORENA candidate. Moy: we are coming for you, you fucking crap, and we are coming for anyone who works in the town hall (i. e. street lighting and water workers) and cooperates with our enemies (even if we must kill everybody).

Attentively: The one with the big dick

The Sweeper has come for you all. We are after you Aurelio, Local Water Management interim director.
Former Candidate
Proceso says that Tinajero is the third former candidate for Morena to run for municipal elections to be assassinated in the state. The most recent happening on September 4 in Moroleón, Joel Negrete Barrera was a former campaign associate for the current mayor there. Milenio reports that a total of 19 politicians in the state have been killed during the current political term which would have began a couple years ago.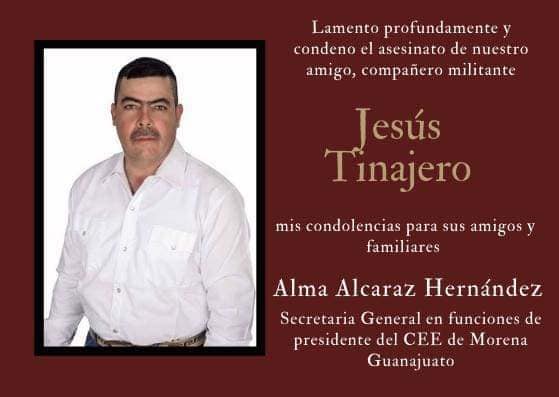 How To Interpret
The picture in the beginning shows the same message though taken inside and showing a red Sharpie on the bottom right corner. Suggesting that maybe it was taken by the criminals before they dumped the remains on the highway. This is of course nothing new, we have observed over the years a variety of ways in which criminals will use social media themselves to distribute word of their atrocities.
It has always been difficult to conclude with certainty, but the presumption has been that such material wasn't actually distributed online by the criminals themselves but merely sent to the press or an anonymous citizen reporter working the beat. That seems to be less the case these days, as the criminals appear to have joined alongside citizen reporters making it less clear who is who.
We can partly see why this is the case. Relying on first-responders or the press to relay your crimes to the public has turned out to be wishful thinking. It's never a guarantee that pictures of the crime will come out and that the cardboard will be shown uncensored. With the chances of them being unmasked online and apprehended below zero, it's understandable why they're doing it.
I can't track that picture to any single Facebook account. But seeing as they placed the bloodied decapitated heads on top of the cardboard, it's seems safe to conclude that it was taken before the bodies were dumped. Someone also thought to scribble in El Azul for whatever reason. It can't be a diversion since it was already attributed to him based on the style of it even without his name.
This appears to be happening more frequently as of late in Guanajuato and I've briefly talked about a couple of suspicious cases on Twitter. CJNG has been leaving cardboards daily for weeks it feels like at this point. And clear pictures of almost all of them have been posted to social media, which is just too good to be true for how usually things are. It's something that I will be looking for more examples of in the weeks the come.
---
Sources:
[1] https://periodicocorreo.com.mx/encuentran-restos-de-por-lo-menos-tres-personas-en-carretera-jerecuaro-a-apaseo-el-alto/
[2] https://www.reforma.com/aplicacioneslibre/preacceso/articulo/default.aspx?__rval=1&urlredirect=https://www.reforma.com/dejan-cuerpo-de-ex-candidato-en-via-de-guanajuato/ar2046977
[3] https://www.elsoldelbajio.com.mx/policiaca/jesus-tinajero-fue-localizado-sin-vida-junto-con-otra-persona-sobre-la-carretera-jerecuaro-apaseo-el-alto-a-la-altura-de-el-sarampion-carretera-fiscalia-911-semefo-comunidad-5863524.html
[4] https://zonafranca.mx/seguridad/tiran-restos-humanos-que-se-presumen-del-excandidato-de-morena-a-la-alcaldia-de-jerecuaro
[5] https://www.proceso.com.mx/652276/asesinan-y-descuartizan-a-excandidato-de-morena-a-la-alcaldia-de-jerecuaro
[6] https://www.milenio.com/policia/jerecuaro-asesinan-a-ex-candidato-de-morena
[7] https://www.eluniversal.com.mx/estados/asesinan-excandidato-de-morena-en-jerecuaro-guanajuato