[CONTENT WARNING]
According to an article from 6 March 2020, the so-called Grupo Élite (GE) of the Cártel Jalisco Nueva Generación was formed by Emilio Alexandro Pinedo, aka "El Sobrino" (The Nephew), who worked for Antonio Oseguera Cervantes, aka "Tony Montana" (lol), brother of El Mencho. According to an anecdote from columnist Héctor de Mauleón, Tony Montana was arrested in 2015 but released shortly thereafter for due process violations, an allegation which authorities apparently would neither confirm nor deny. Documents from the US Treasury Department seem to indicate that Tony Montana was in custody when the story was published. El Sobrino was apparently arrested for his alleged role in an attack on the State Labor Secretary in Jalisco in June 2018 a month after the attack.
The article claims these two guys are the leaders of GE and but offers no proof to support the assertion. The article implies that Tony Montana leads the group from prison by pointing to an example of a similar arrangement. So where's this information coming from? Not sure.
After the videos from Tomatlán appeared, Defense Secretary Luis Cresencio Sandoval in statements at a press conference on 20 July 2020 identified two alleged leaders of GE: Juan Carlos González, AKA El R-3, or El 03, the supposed leader of GE with a presence in Michoacán, Guanajuato and Zacatecas, and another individual referred to only by his alias El RR or El doble R, (or Tripa according to an article from 7 October 2018) who was said to lead a group with a presence in Michoacán.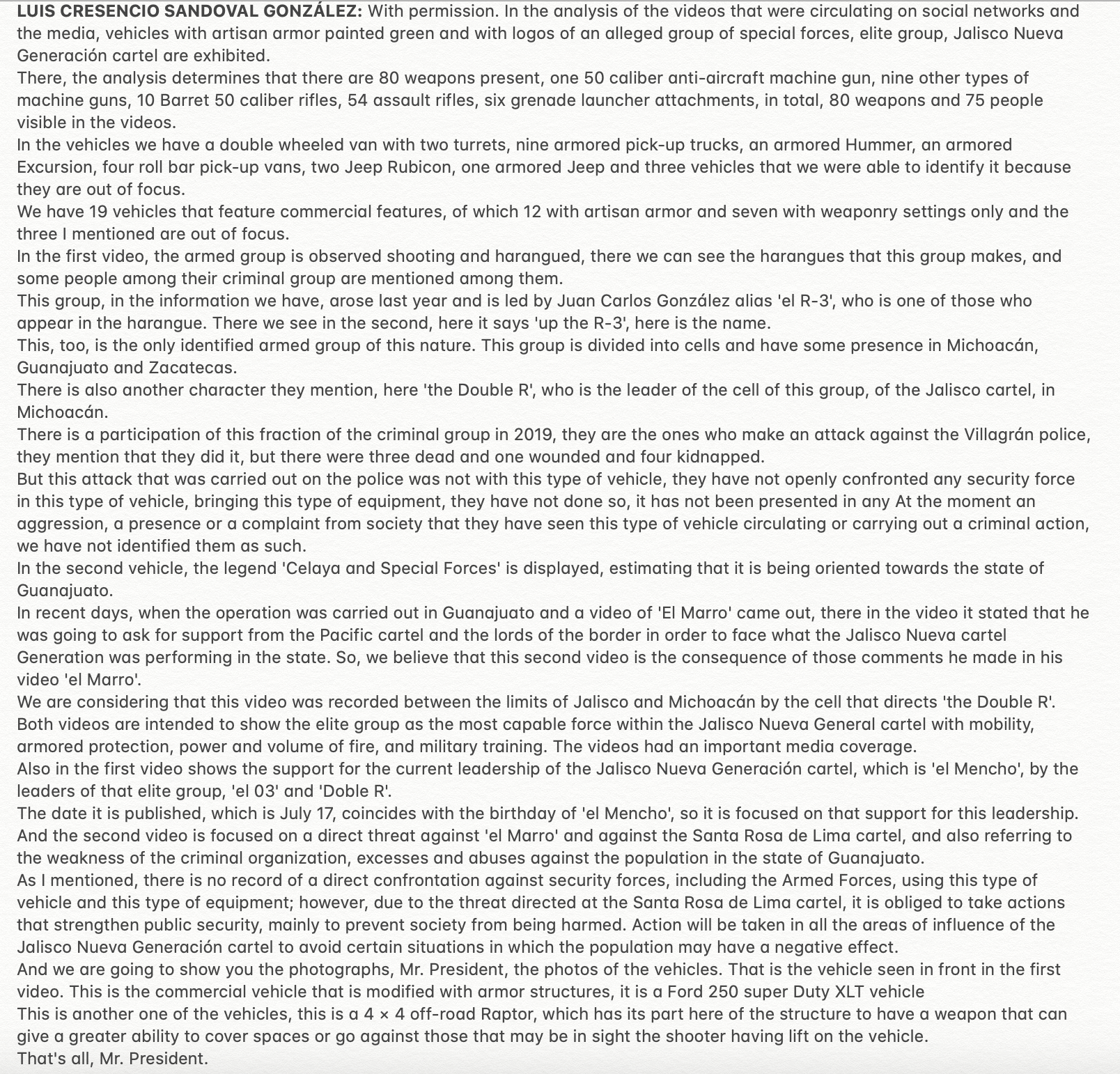 However, according to an article published 3 May 2019, El RR is Ricardo Ruiz Velasco, the supposed commander of the GE faction fighting in Guanajuato.
"According to the contacts of the Mexican Army, 'El JP' and / or 'El Tercero' formed two armed arms under his command and for his own benefit. One of them who maintains a bloody war in the State of Guanajuato with rival cells. This elite group is under the orders of Ricardo Ruiz Velasco 'El RR'. The other is the 'Grupo Delta', which fights control of territory in Michoacán and is related to the attack against former prosecutor Luis Carlos Nájera, in a Japanese restaurant in the city of Guadalajara on May 21, 2018" https://web.archive.org/web/20190801173225/https://www.poresto.net/2019/05/03/el-jp-sanguinario-sucesor-de-el-mencho-desata-una-ola-de-violencia/
What, if any, is the significance of the discrepancy between Sandoval's statement and the article? I don't know. Maybe none?
Ricardo Ruiz Velasco, aka El RR or El Tripa, was arrested by federal police sometime around 6 October 2018 in Tlaquepaque, JAL for his alleged involvement in drug sales and executions in the Guadalajara metropolitan area. He was transported to CDMX by the SEIDO (special group of federal police).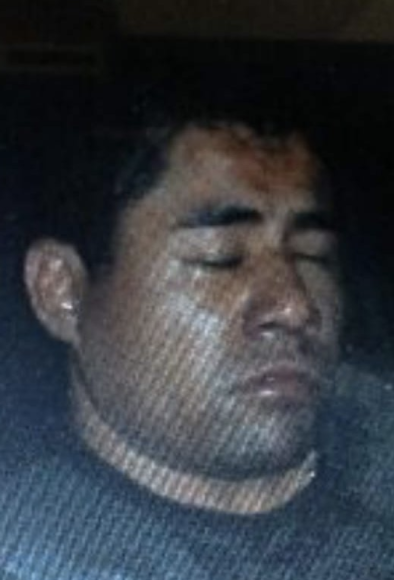 In 2014, Ricardo Ruiz Velasco, aka El Tripa Seca, was arrested in Jalisco for his involvement in 9 murders. But the photograph accompanying the report of his arrest doesn't appear to be the same person arrested in 2018. I don't know what to make of that.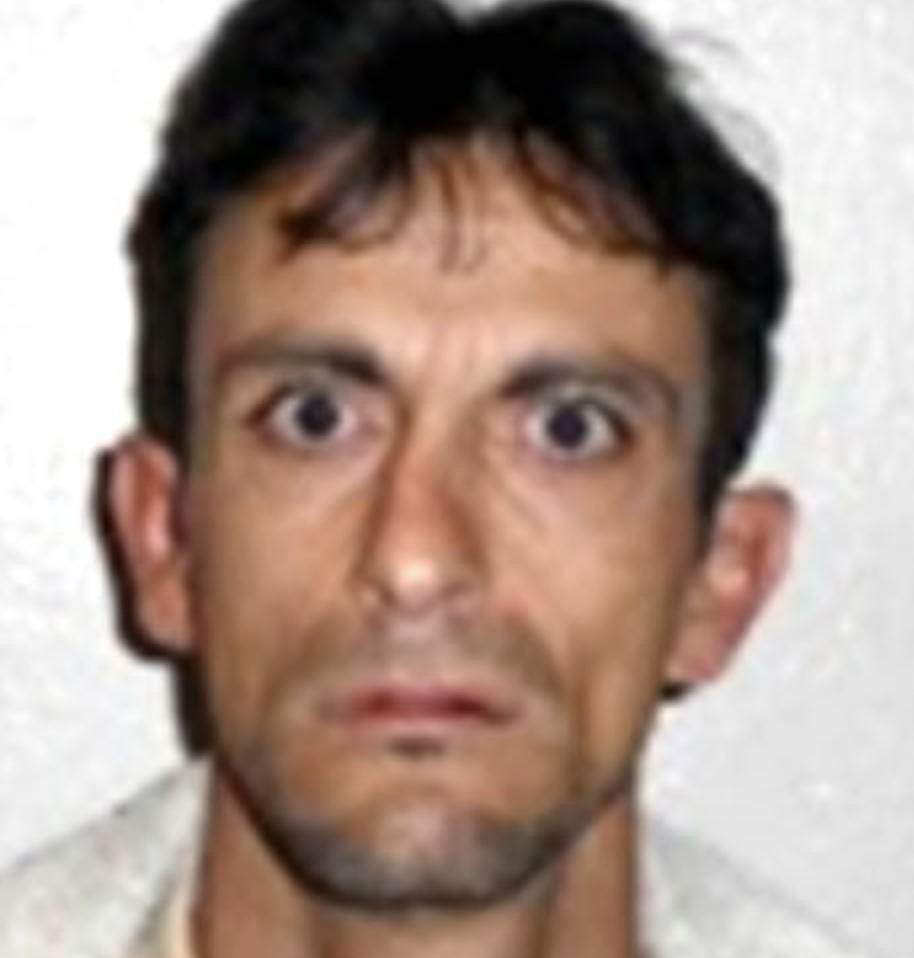 This, along with the communications directly from the group, is the extent of the publicly available information about GE from what I've been able to find. Which brings us to a timeline of communications and actions from the group.
---
22 May 2018: attack state Labor Secretary in Guadalajara, JAL
20 September 2018: PEMEX engineer killed, cartulina left with body (somewhere in GTO?)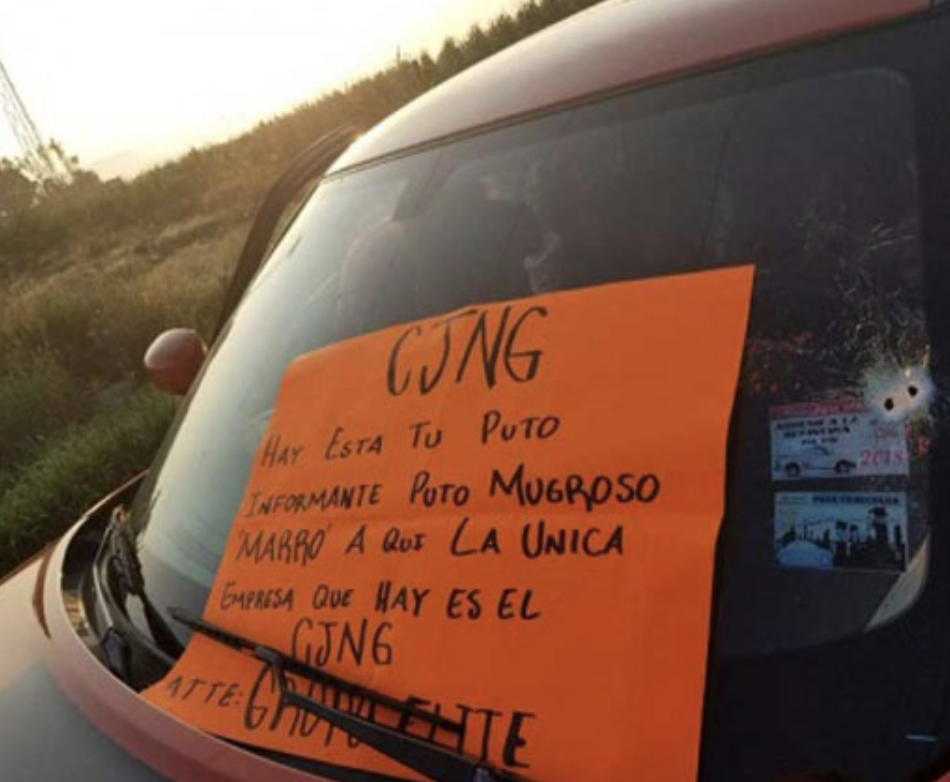 29 September 2018: 2 shot and killed, cartulina left with bodies in Irapuato, GTO (Col. Playa Azul, ave. Los Insurgentes)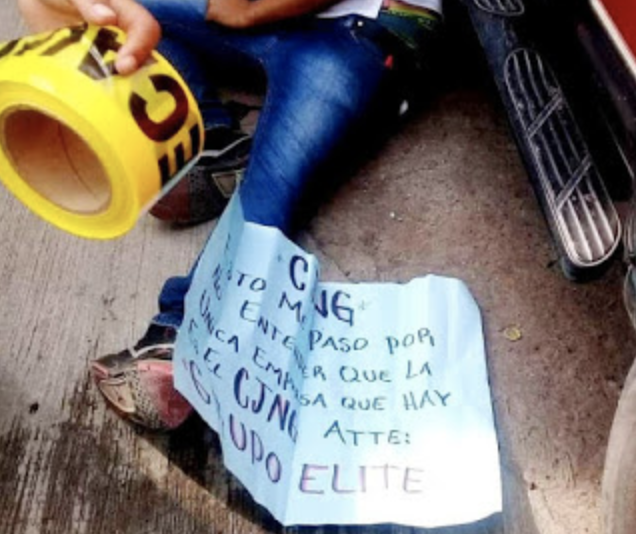 9 December 2018: interrogation video, 2 dismembered bodies left with cartulinas in Salamanca, GTO (Rancho La Luz, calle Miguel Hidalgo). This dismemberment is much different than subsequent ones. The dismemberments that followed are much cleaner, perhaps done postmortem and/or under running water. The 9 September 2018 dismemberments are much cruder with the victims' genitals apparently stuffed into their mouths, a practice which I don't think was ever repeated.

23 June 2019: 2 dismembered bodies left with cartulina in Silao, GTO (La Via 1)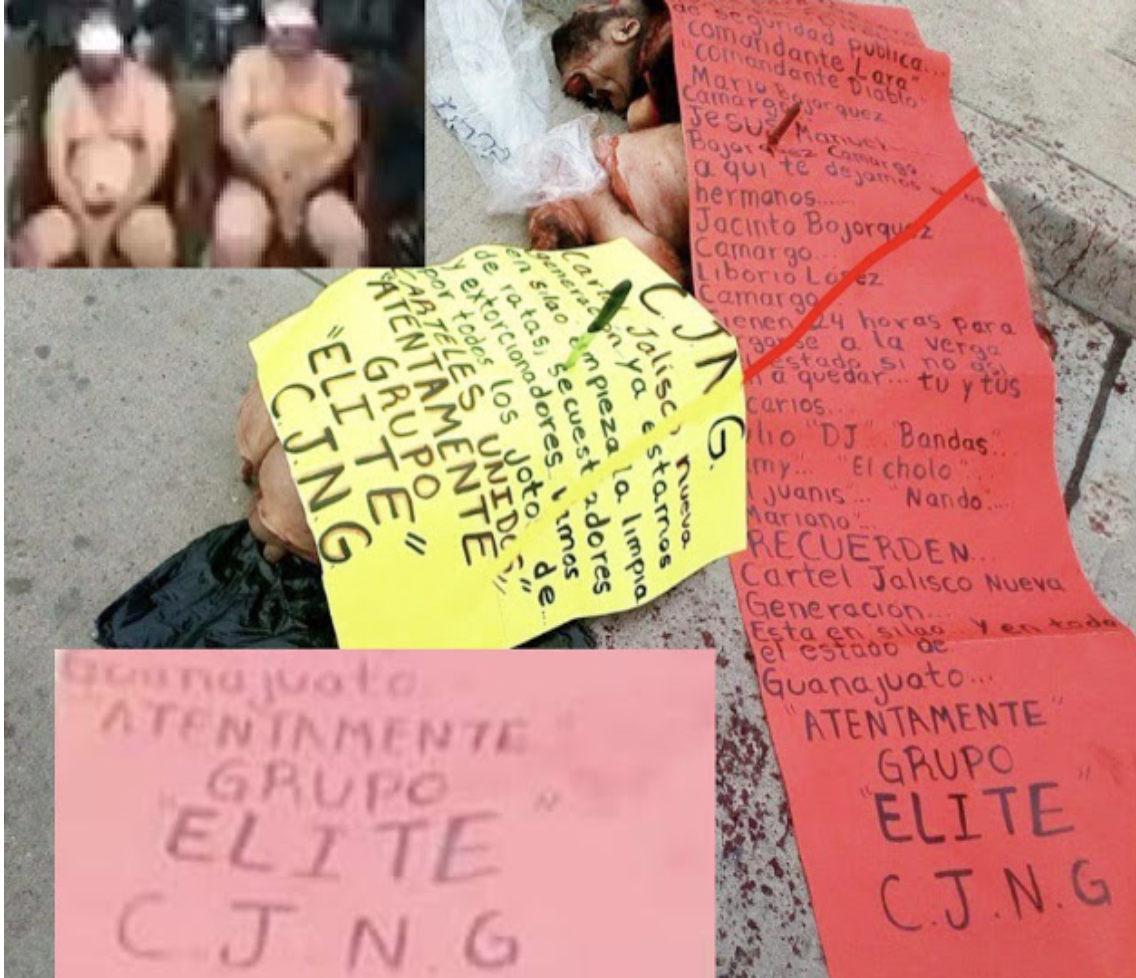 6 August 2019: interrogation video of Adolfo Mendoza Valencia aka El Michoacano, alleged jefe de la plaza for Valle de Santiago, GTO (Palo Blanco). Body of El Michoacano later found hanging from bridge in Villagrán, GTO. Execution is not on video.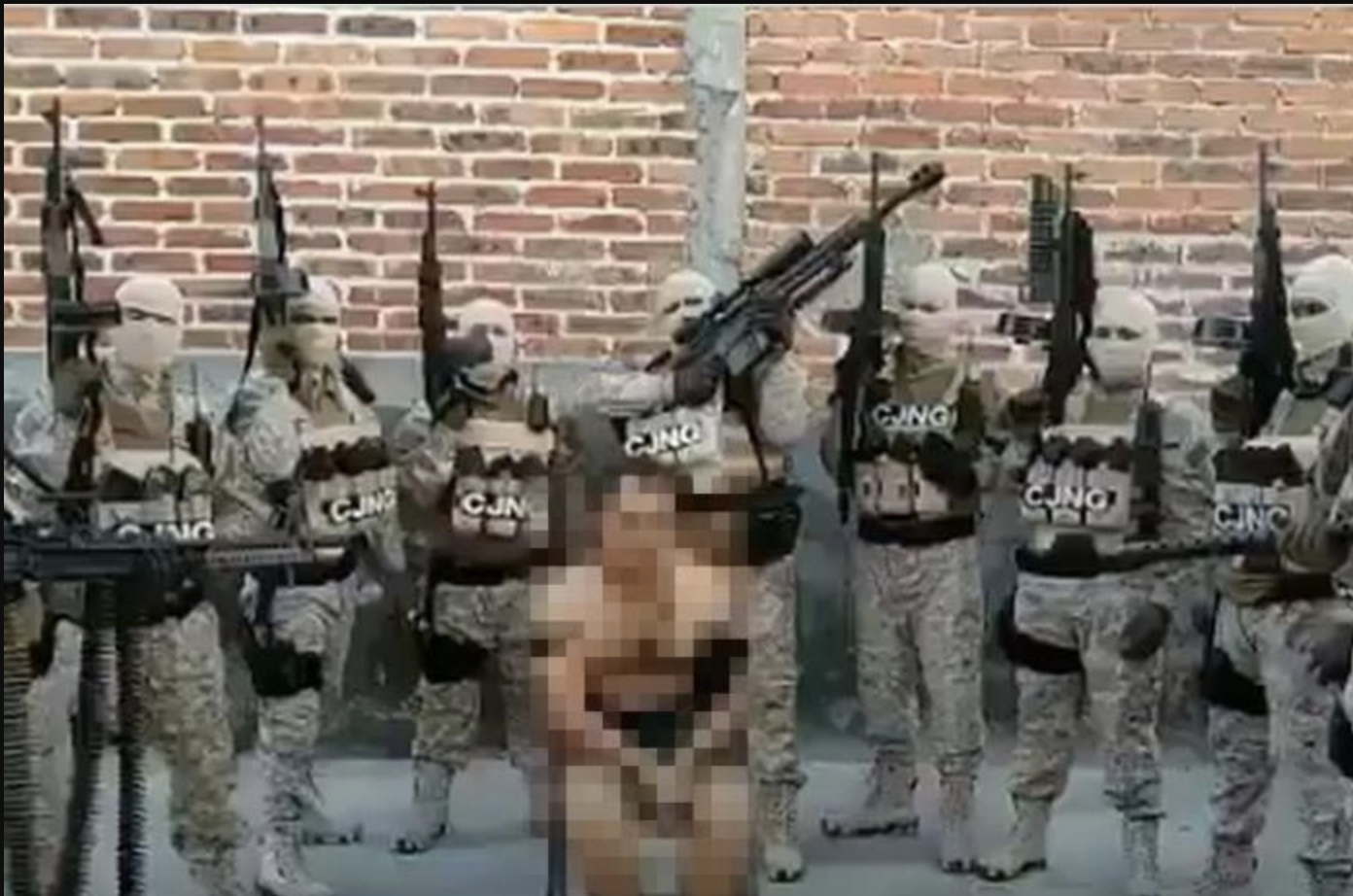 8 August 2019: interrogation of Tony Cervantes, an alleged associate of Grupo Sombra in Villagran, GTO (Irapuato mentioned in video). Execution is not filmed. 2 bodies hung from bridge. In their closing remarks, GE states twice that their goal is to bring "peace and tranquility" to Guanajuato.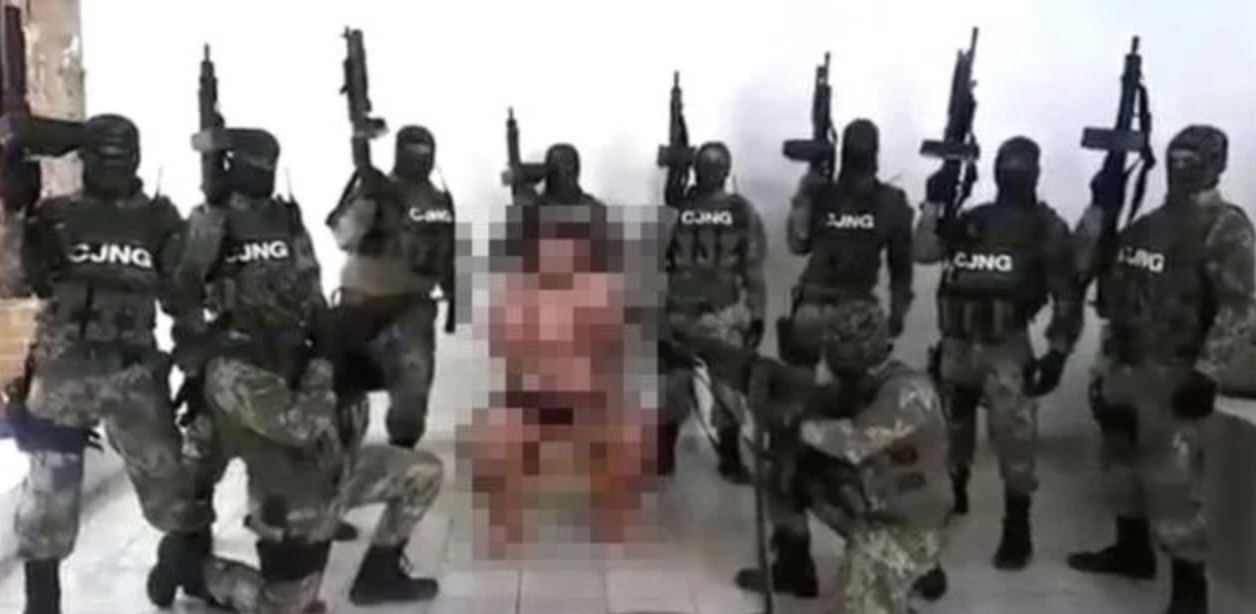 6 October 2019: 3 dismembered bodies found with a cartulina in Celaya, GTO (Eje Juan Pablo II)
17 October 2019: dismembered body found with cartulina in Abosolo, GTO (La Peña)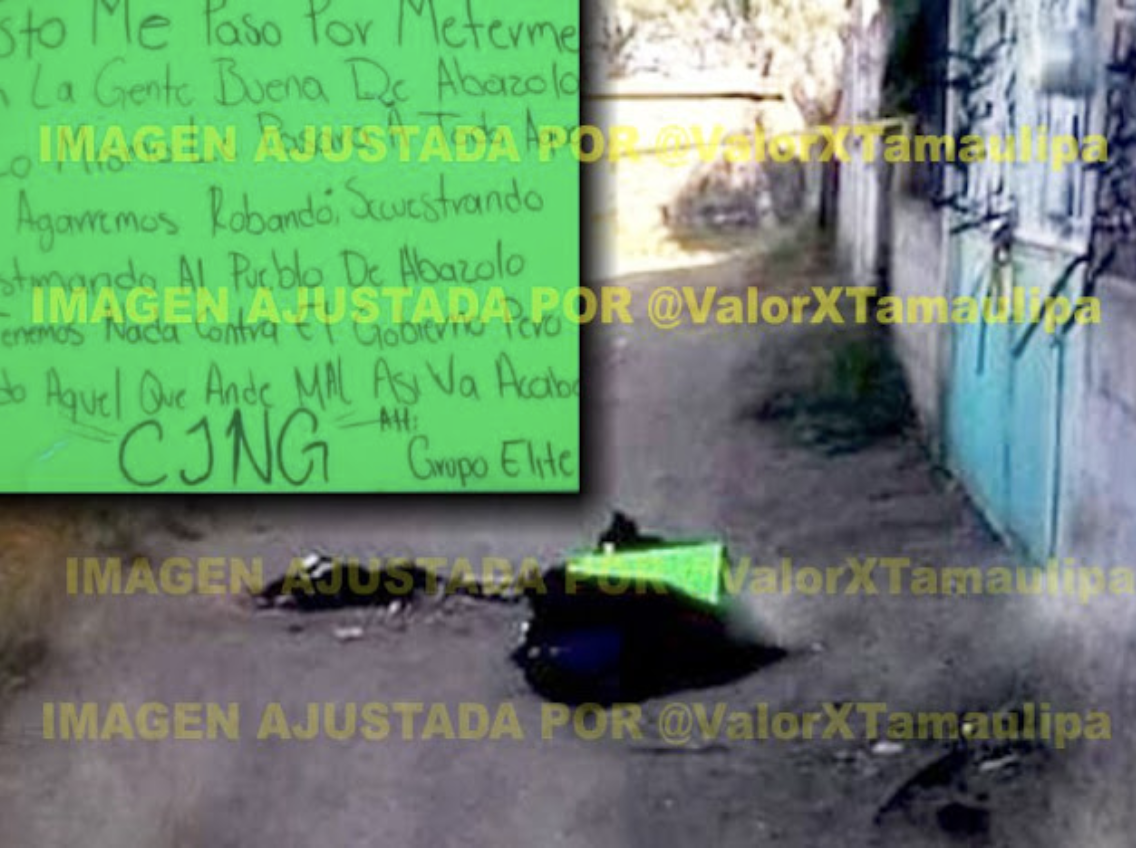 26 October 2019: body found with cartulina in Morelia, MIC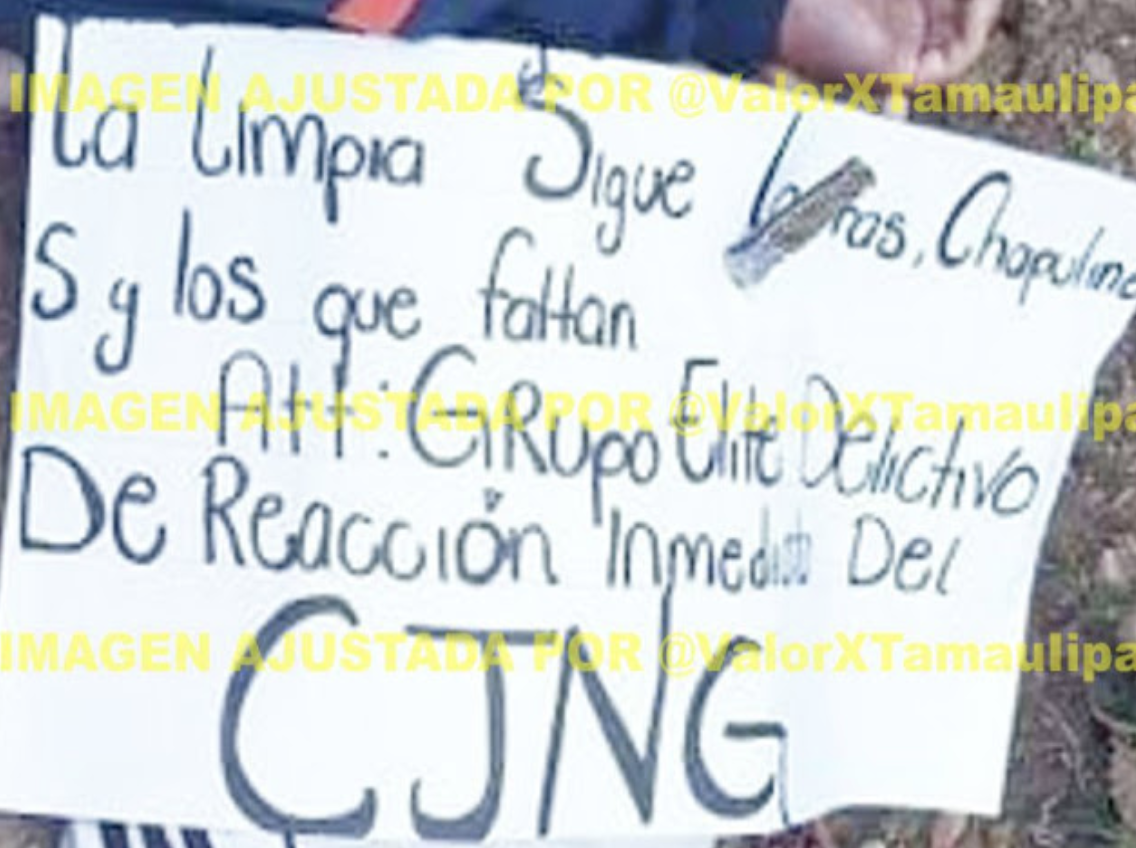 14 December 2019: interrogation of 4 police kidnapped in Villagrán attack. The police are later found dismembered. Executions are not shown in the video. During the questioning, the female officer describes monitoring the movement and activity of the military in the area. There's clearly a dynamic of the local officials vs the federal or perhaps state authorities which parallels the conflict between CDSRL and CJNG.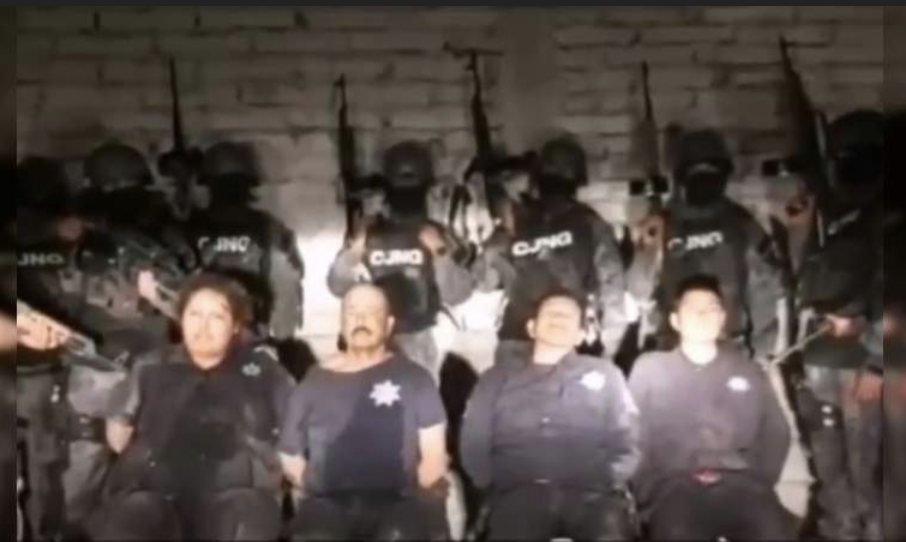 12 January 2020: GE allegedly kills El Marro's sister and 4 others near Celaya, GTO
12 January 2020: audio clip of threat to El Marro materializes on Twitter after the killing of his sister
17 January 2020: 7 killed in Tarimoro, GTO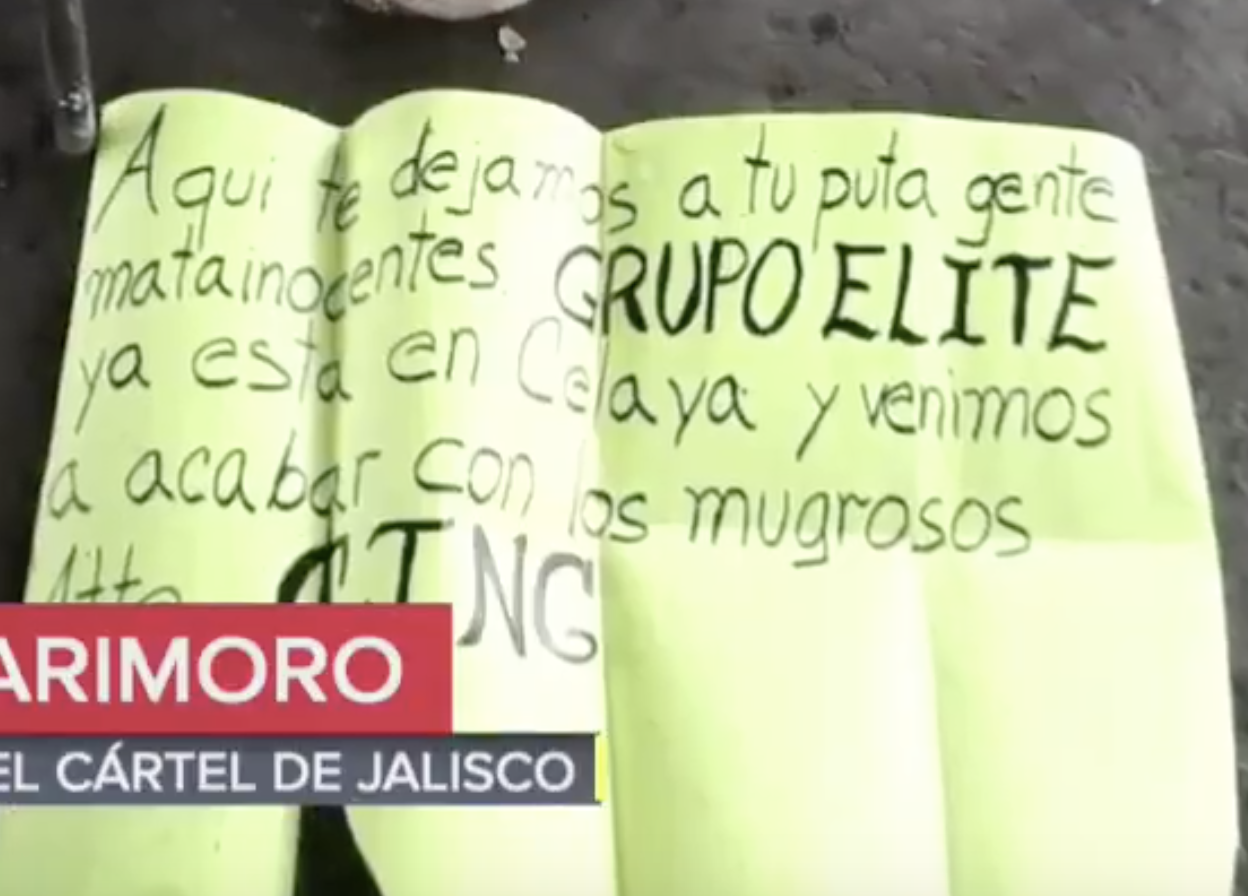 10 February 2020: professionally printed narcomantas warning El Marro et al. in Silao and Camargo, GTO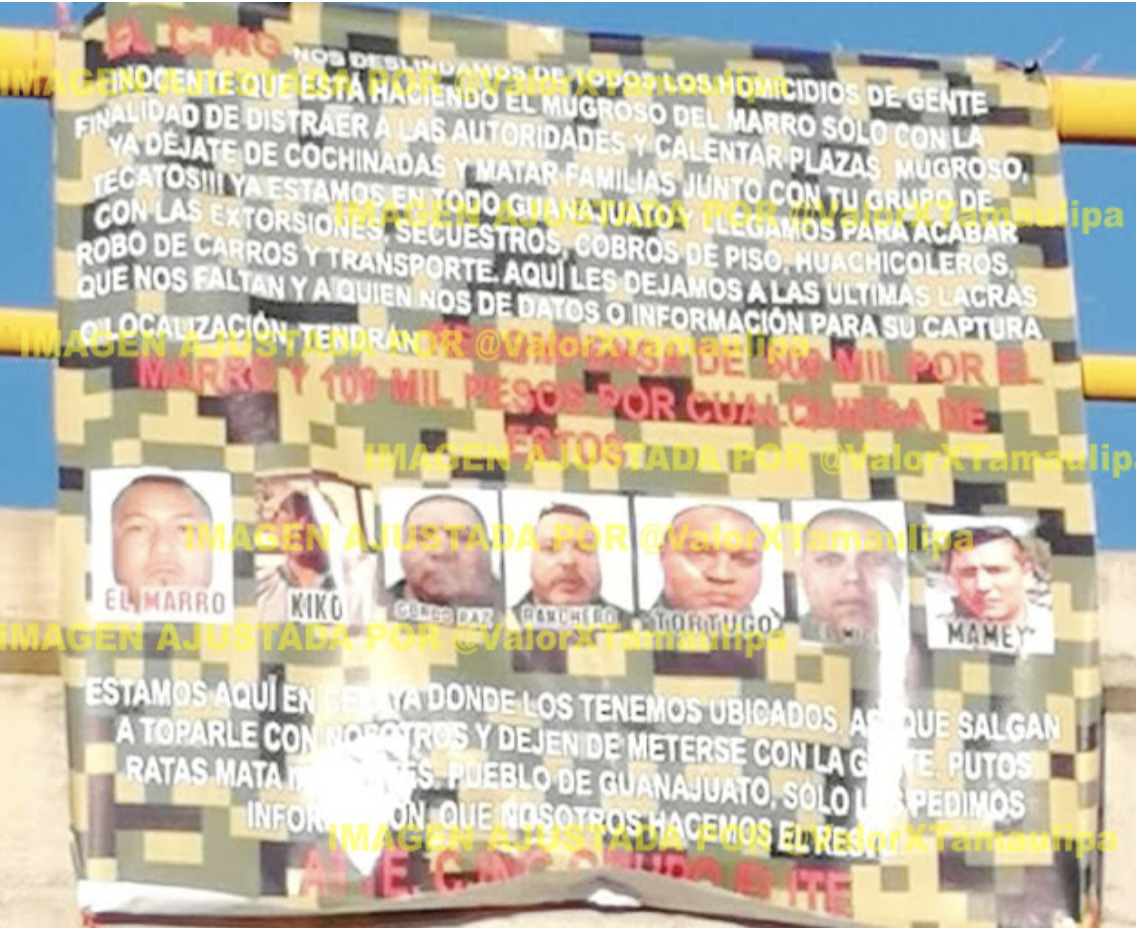 13 February 2020: audio clips of GE warning that they would soon be "cleaning" in Camargo and Miguel Aleman, TAM.
7 June 2020: at least 3 people killed and more injured in attack which included grenade(s) in Celaya, GTO (Calle Albino García in Col. Las Fuentes).
17-23 July 2020: videos 1, 2, 3 of GE convoy, RR + convoy, RR Q&A in Tomatlán, Jalisco
22 July 2020: 3 killed, cartulina left with bodies in Celaya, GTO (Calle Dalia, Colonia Lindavista)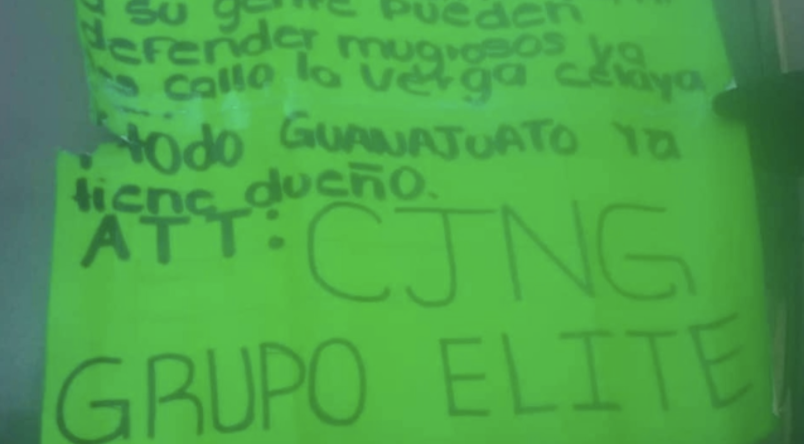 25 July 2020: interrogation video, dismembered body left with a cartulina in Cortazar, GTO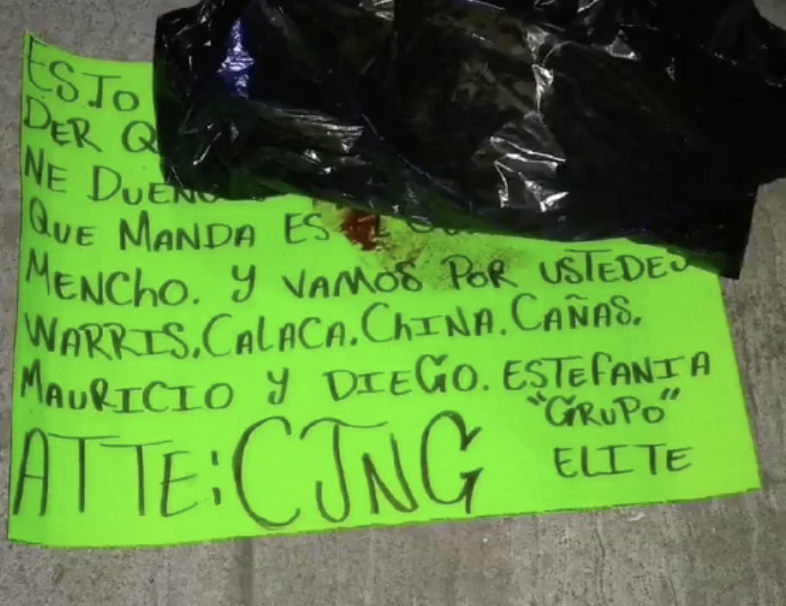 26 July 2020: reports on social media and blogs of between 10 and 12 armored vehicles in attacking various cities in Michoacán and Jalisco. One of the vehicles from the 17 July video recovered.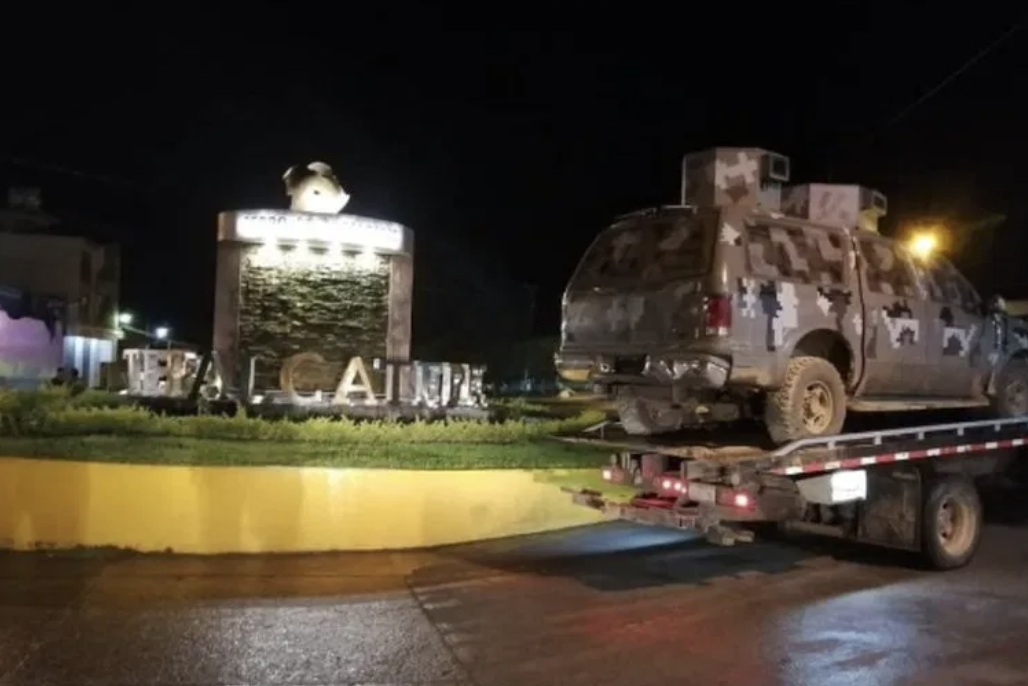 27 July 2020: GE message appears on Facebook (which may be a new MO but I need to double check on that) in which they claim they were not defeated as had been suggested the day before but just had one vehicle break down.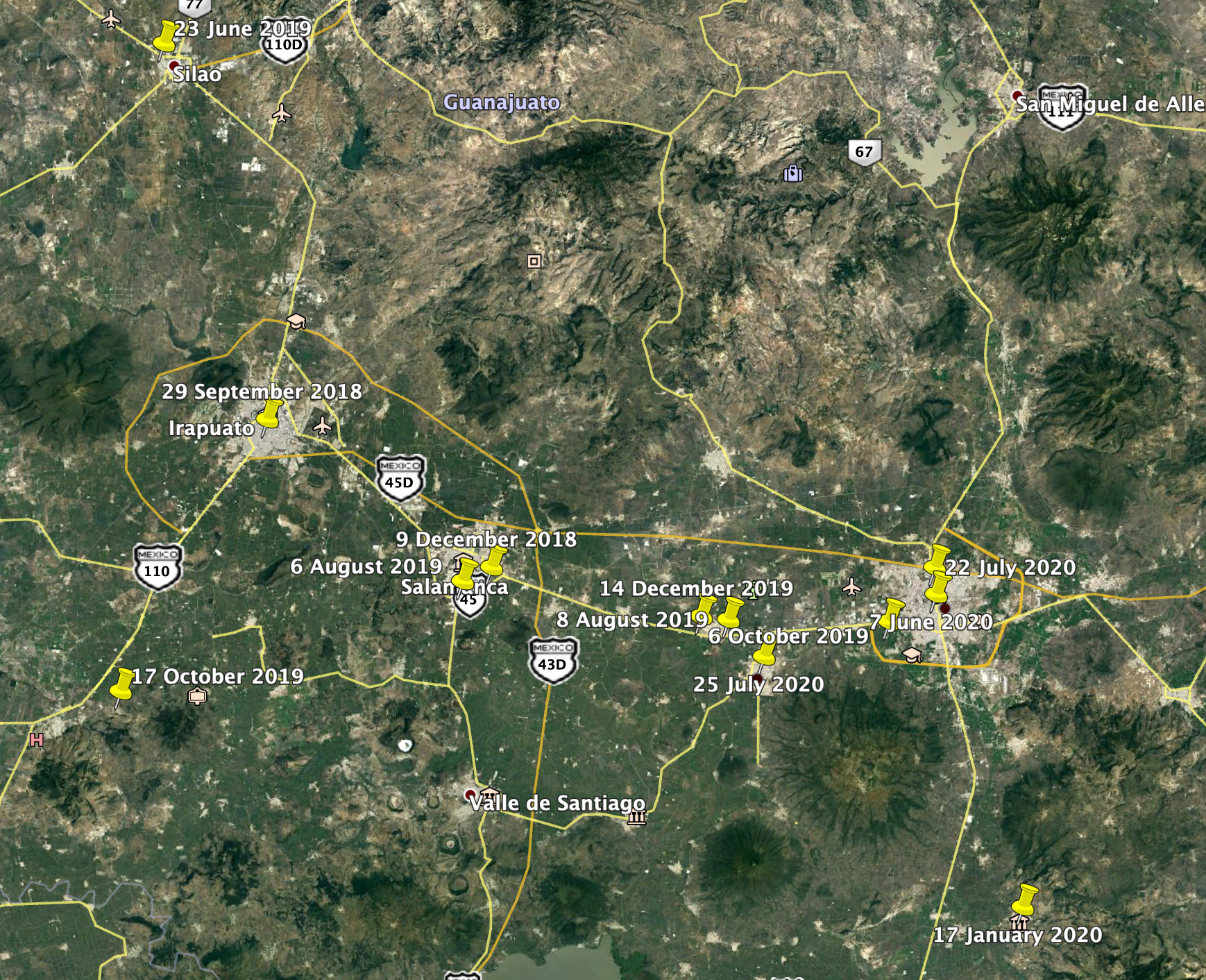 ---
There may be additional actions and communications from the group which I'm omitting but I will add them over time as I come across them.
One interesting thing to note is that, from what I've seen, GE has never carried out an execution on video. I hope that never changes. They also emphasize in their public communications that they are distinguished from CDSRL by not harming innocent civilians. This isn't possible to verify with publicly available information.
Identification of GE associates
9 August 2019: 16 alleged associates of GE supposedly found with weapons and bulletproof vests matching the ones in the video of Tony Cervantes of Grupo Sombra's execution.
February 28 2020: in an interrogation video allegedly from associates of CDSRL in Celaya from the person being interrogated identifies himself as Jesus Flores Martinez and claims to be an associate of GE. He claims to work for David Zárate and mentions working at Peregrinos Bar, El Perico Azul Bar, La Chula Bar in the neighborhoods of Bosques and Pinos in Celaya. He claims to come from Irapuato and claims they are not paid for their work as associates of GE. All of this information is extracted under torture and should be considered extremely unreliable with many of the answers fed to him during the interrogation from his torturers.
17 January 2020: state police arrest 5 men they allege are from GE. 3 of the men are from out of state: Sinaloa, Nayarit and Lagos de Moreno, Jalisco; the remaining two are originally from Cuerámaro and Salamanca, GTO.