There have only been a handful of people that I've spoken with off Twitter, Mr. Teun Voeten is one of them. A couple of months ago the gentlemen messaged me saying that he was heading to Mexico, stopping over in New York and wanted to hop on Skype to run some thoughts past me. We had communicated a couple of times in the past, I knew he was legit and so nervously I agreed. He couldn't have been a nicer dude. I could sense that he felt a lot of excitement about his upcoming journey. We chatted about why he was going and which places he was to visit. It was nice to meet him on that level and witness his enthusiasm. I'd noticed the man had a good view on things and ample curiosity. When Teun reached out and asked me to look through his book published in December, I was excited.
Mexican Drug Violence: Hybrid Warfare, Predatory Capitalism and the Logic of Cruelty isn't made up solely of experiences from Teun's latest trip to Mexico. The introduction allows a look at the life journey that has carried him to a point of writing a book about drug violence. His academic background mixed with an enjoyment for photography and embedded reporting, provide perspective that's authentic. His first book Tunnel People (1996) resulting from his time living for five months alongside an underground homeless community in New York. Ten years later venturing into Cuidad Juarez and seeing first hand the city descend into chaos.  Publishing a book of photography from his fieldwork titled Narco Estado: Drug Violence in Mexico. What is evident when you read his words is that he was a witness and at times unintentional participate.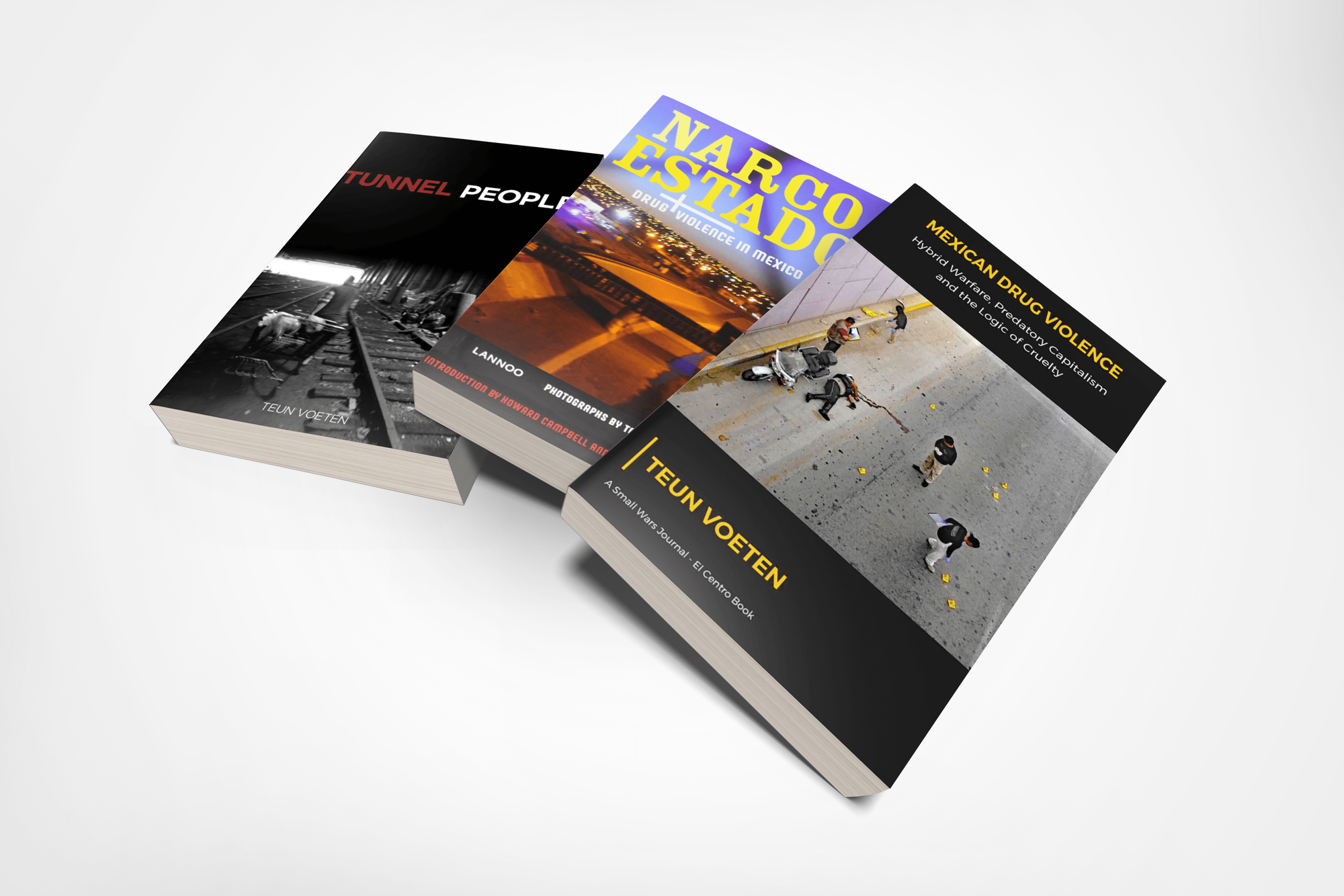 Describing his latest book in his own words, he writes:
I will analyze the Mexican drug war from different angles, using a macro-perspective as well as looking from a micro-level. From a political science point of view, I will explore if violence is an example of a so-called 'New War,' a postmodern conflict in which armed groups merge with organized crime and deliberately create a situation of chaos and lawlessness. Or, is the drug violence a logical consequence of decades of Mexican authoritarian politics that were embraced in the 1980s along with a neoliberal system resulting in growing inequalities, subsequently causing an exacerbation of criminality?  From another perspective, can we see the drug cartels as extreme examples of predatory capitalism that thrive in a neoliberal environment? And looking at individual actors involved, what is their rationale and what are their motivations? Why do actors engage in criminal activities and extreme violence that might certainly end with their own death? In this book, I will try to find answer to these questions and will approach the Mexican drug violence from a political war viewpoint and an economic angle. Finally, I will take a more anthropological approach by looking at the actors from a micro-level. To better understand the actors at work in Mexico, I will make cross-cultural comparisons as well with actors in different geographic, cultural and historic contexts.
From a thorough and delicate crafting, Teun makes his case. What I appreciate about his analysis is the usage of war as a foundation. I find a lot of benefit in using this as a basis because it does an adequate job describing the evolution of organized gangs and their interactions with law enforcement. I think some are hesitant to look at things through such a framework because of a presumption that the solution proposed with always be more war. But I would argue you'd find that less the case than more. In other words, by giving war a closer examination, often is discovered that in fact conflict was not the best solution, surprise right? But really, knowing why and where such interactions between non-state and state actors failed is crucial in establishing effective solutions that encourage states to resort less to unnecessary violence. In addition, it gives past and present examples of conflicts to which comparisons can be drawn. It is for that reason that I find the study of war to be a necessity. Teun does a good job with his first chapter giving the reader a look at the different ways in which war has changed over the years.
The second chapter provides a historical look at drug trafficking and how law enforcement and politics have reacted over the years. Chapter 3 diving into theory and work towards answering questions surrounding violence. One of my favorite sections of this chapter is War in plural: seven simultaneous wars (pg. 142) that gives a breakdown of the different conflicts. It's beneficial since often everything gets lumped into a single conflict that's referenced as the drug war. My biggest gripe with a lot of drug war reporting is a lack of specificity. There are so many elements that make up the system in its entirety, some less obvious than others. Detailing the various parts of it all allows for a better grasp of the situation overall, and provides an always needed reminder of its complexity.
Altogether, Teun puts forth a detailed account of all that is happening in Mexico. Weaving his own experience and research of the country alongside works from scholars of various backgrounds, this publication provides an exceptional rundown of the situation. Like all books from the Small Wars Journal, it's heavily cited throughout. Making it easy to find further information on anything that is mentioned. I often find myself with dozens of tabs open in my web browser from all the interesting things I want to follow up on. This book provides much benefit for anyone looking for a high-level overview of past and present research on this topic, mixed with on-the-ground reporting from Teun's ventures throughout conflicts around the world. I'm always fascinated to learn about how people from other parts of the world interpret the violence in Mexico. He covers a lot in his latest book, providing clarity into theories and ideas on drug trafficking and the related violence occurring in its wake.