Yesterday the Colombia police announced through a press release that they had made a seizure of 1,604 kilos of cocaine at the port of Buenaventura. The cocaine was hidden in 267 sacks of sugar that was to be exported to Belgium. A video from the authorities can be seen below.
The press release states that:
So far this year, more than seven and a half tons (7,765,510 kilograms) of cocaine hydrochloride have been seized in the port of Buenaventura, corresponding to 36% of the total seizures made in maritime terminals in the country.
How To Interpret
Not much to say about this one. We have seen cocaine heading to Europe increase in the last couple years. Belgium seems to be an often destination and we always see operations happening on that side do with cocaine being imported.
In March of 2018 the Wall Street Journal published an article title "Cocaine's New Gateway to Europe: Busy Belgian Port."
Europe's largest container port for bananas has also become the continent's gateway for another tropical product: cocaine.

Last year, 41 metric tons of cocaine, with a street value of roughly $2.5 billion, was seized in Belgium, according to Belgian customs officials. Most moved through the port of Antwerp, Europe's second-largest behind Rotterdam. In more than half the seizures, customs officials say, the cocaine was placed in banana containers that came from some of the top cocaine-exporting countries: Colombia, Peru and Brazil.

Antwerp Mayor Bart De Wever says the port's proximity to Rotterdam, where many major drug organizations are based, and its success as a destination for legitimate Latin American exports explain why it is so popular with drug cartels.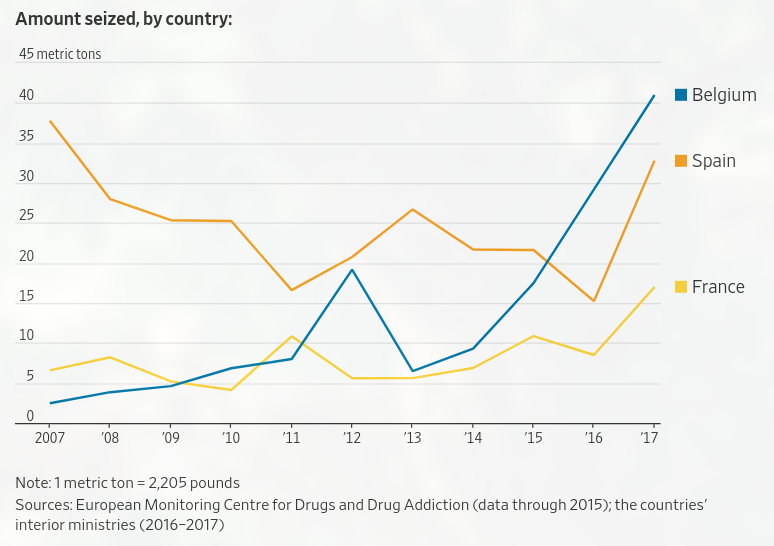 Another article published in the following year said that Antwerp was the number one port of entry for cocaine into Europe.
At the moment we appear to be in a sort of cat and mouse game, not really making much impact on overall figures. And at this point it's hard to conclude that the pandemic has hampered things very much at all as was thought would happen when it first started.
Another day, another interdiction.
---
Sources:
[1] https://www.soydebuenaventura.com/articulos/la-policia-antinarcoticos-frustro-el-envio-de-mas-de-16-toneladas-de-cocaina-por-uno-de-los-puertos-ubicados-en-buenaventura
[2] https://www.policia.gov.co/noticia/incautamos-mas-16-toneladas-clorhidrato-cocaina-puerto-buenaventura