Over the weekend on Sunday a semi-submersible was discovered in the waters of the Micay river, bordering the departments of Valle del Cauca and Cauca. The vessel was said to be nearing its departure date and found loaded up with 402 kilos of cocaine. That makes this the ninth vessel to be seized this year by the Colombian Navy. I don't have data comprehensive enough to make a definitive comparison to years past. But we do have some data on years prior and information about this type of semi-submersible to give us a bit more context about this latest find.
Very Slender Vessel
The irreplaceable Narco Submarines recognition guide by H. I. Sutton provides us some background on this particular type of semi-submersible. These are classified as Low Profile Vessel, Outboard Motor, Very Slender Vessel or LPV-OM-VSV. The detail to pay attention to in this case is the Very Slender Vessel. Before the LPV-OM-VSV, there were just LPV-OM types. But in 2017, the first VSV was discovered, the differences warranting an additional distinction. The slenderness of the vessel allows it to sit lower in the water in turn increasing covertness. Currently, observed since 2017 have been a total of six different VSV types. Another important detail is that the VSV types predominately have hulls that are custom-made. Which was different from a lot of the LPV-OM non-slender vessels made from repurposed speedboat hulls. This particular one seized on Sunday appears to resemble most the LPV-OM-VSV Type 5. In 2019 there were a total of three discovered in the Pacific. The length reaching approximately 51 feet, with a cargo capacity of 0.6 tons or 544 kilos. It allows a crew of three people and uses three 75 HP outboard motors. There does exist a Type 6 of this family, but it contains a hatch about halfway to the bow which the one discovered Sunday doesn't.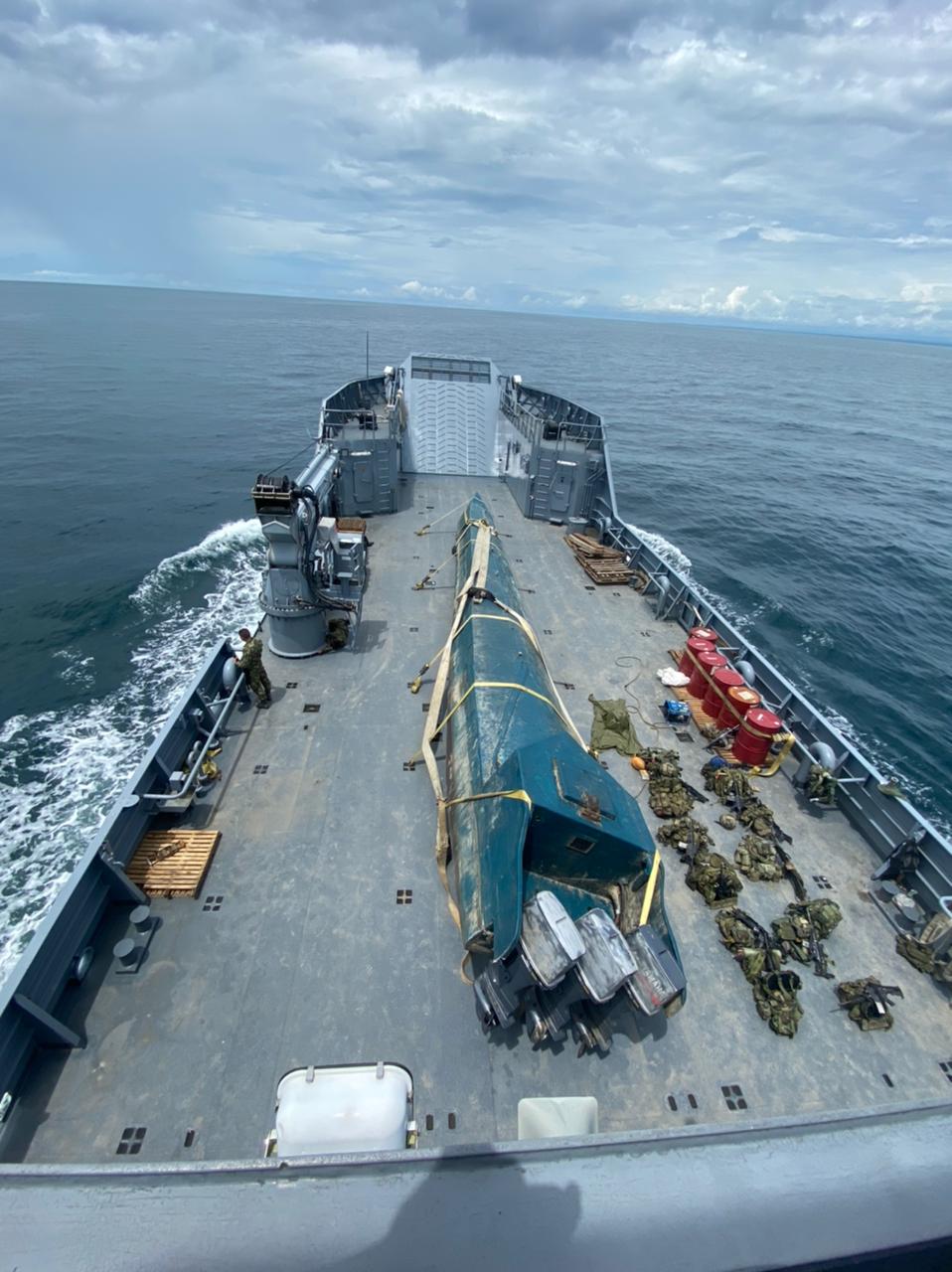 Press release claims
The press release provides some questionable numbers. It claims the production cost of such a vessel is between 500,000 to 1,000,000 USD. Also, that it has a cargo capacity of 8 tons which equates 7257.478 kilos. That is a far bigger number than what has actually been discovered in past incidents. The cost of production also seems high being that these vessels are not using recycled speedboat hulls and are only sporting three measly 75 HP motors. The biggest cost seems to be not a financial one, but a human one. You can't build these things overnight, their infrequent confiscation is a testament to the fact that they take a lot of effort and a long time to build. I also suspect that if whoever builds one of these could instead spend 500,000 to a million dollars they would choose something other than a do-it-yourself submarine. Those responsible are alleged to be involved with the Structure 30 "Rafel Aquilera" organized crime group. It's safe to say that the vessel was headed for Mexico.
Business as usual
Overall, everything about this is pretty standard stuff. Mentioned is that this is the first confiscation that has happened actually on the coast of Colombia for 2021, meaning the others have taken place at sea. "Military intelligence information allowed units of the Colombian Navy and the National Army to locate the semi-submersible" telling us that this wasn't a discovery of chance. Intelligence leads to an investigation that prompts an operation. Like mentioned in the beginning, it's difficult to say if these nine vessels seized in the first three months of the year equate to an increase over prior years. The book lists a total of 15 vessels between all VSV types seized in 2019. That does not include non-VSV vessels, so the number of overall confiscations would be higher. I'll also point out that the press release does not distinguish between types, meaning the nine found this year thus far are not all VSV types. It does appear to be an increase from certainly last year, but also 2019 which reflects things more accurately due to the disruption the pandemic caused in 2020. If this rate keeps up, it's possible we could see the most seizures ever in a single year. Which all makes sense given what the situation is regarding ever-increasing rates of cocaine smuggling. Seeing the recent influx of tourists to Miami, one can understand why smugglers might be eager to hit the high seas as the cloud of Covid-19 begins to clear.