The Mexican National Guard and others in a matter of seven days carried out operations resulting in abnormally large caches of guns, equipment and the take down of a drug laboratory. All happening in a small town named Comanja de Corona located in the municipality Lagos de Moreno in Jalisco. The town is located on the border with Guanajuato.
When looking at incidents in areas that I am not very familiar with I will first look at Google filtered to the last month or so. This gives me the ability to get a sense of things that have been happening in that area. Taking a look at Comanja de Corona I am unable to find anything that sticks out. Typically if there is a lot of organized crime activity in that area you will see it all over social media and Google.
Everything related to all this appears to have started with an operation that took place on the early morning of October 1. It is reported that "a battalion with more than 50 elements of the National Guard , as well as at least 20 elements of the Navy (SEMAR) and military elements began to deploy from the municipality of León in the direction of the state of Jalisco." Including supposedly a Black Hawk helicopter from Mexico City to provide support from the air.
It's hard to be sure from the article what led to all of this. Upon arrival in the town, they located one farm with an approximate size of two hectares, finding thirty weapons of various kinds, two trucks and four sedans. In regards to the discovery of the drug lab, they state:
Upon receiving a neighborhood complaint that in the area of the abandoned mines in the Jalisco mountains, military and marine elements knew that there was at least one drug laboratory.

With the support of the helicopter, a route was traced, but when the federal troops followed the direction of the road, they encountered complications because at one point in the area they found that there was no more road, so they began an operation on foot.

After several hours of searching for the narco-lab, they managed to secure it and dismantle it to prevent further drug production in the area.
Multiple operations appear to be one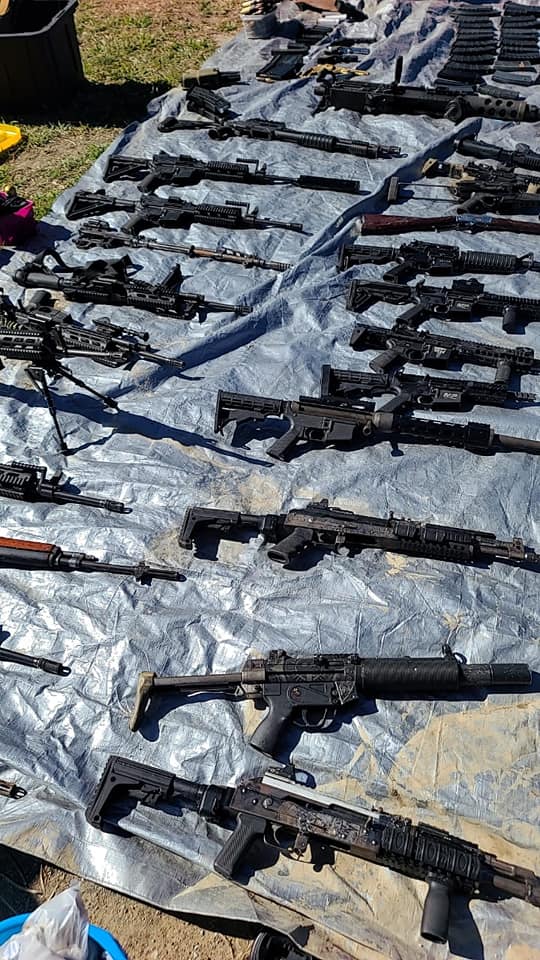 Because of how these were shared online all of this appeared at first to be the result of multiple operations, at different locations. But upon further examination that doesn't seem to be the case. If we look at a picture shared online Oct 1 compared to a picture shared online Oct 6, we can see they're actually at the same location.
What appears to have happened is that on Oct 1 pictures unsurprisingly leaked out showing what was at the time still an on-going operation. This gave the impression that when more pictures came out on Oct 6 that it was from a subsequent operation. But what is more likely the case is that by the sixth the operation had completed, all the items brought back to law enforcement headquarters, organized and properly counted. That produced a whole other new set of photographs which people shared as being from a different operations.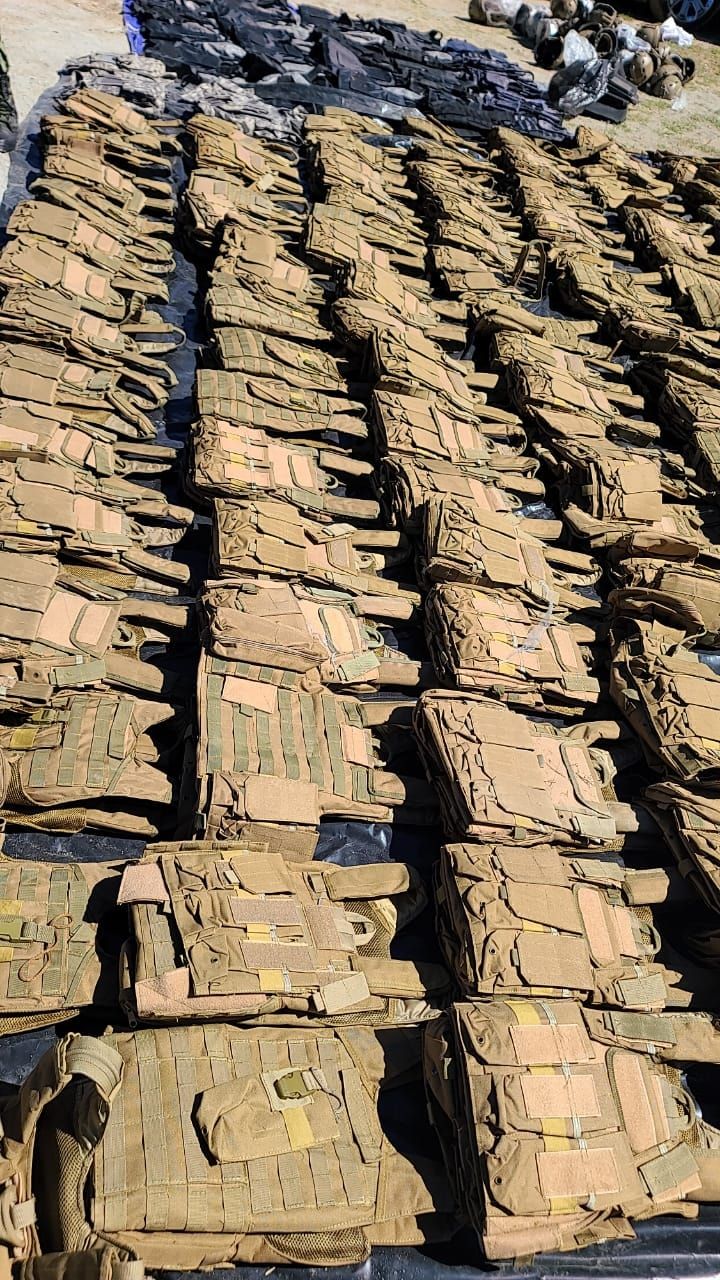 This is somewhat understandable in hindsight. Pictures leaking out are a common practice these days, and usually without proper information or comprehensive information. Which can be dangerous of course because without all the information it allows folks to twist things to fit their own narratives. I also suspect that for us English speakers, some of these specifics get lost in translation. It's a friendly reminder to all of us to be patient and wait for more comprehensive information to come out before making a conclusion.
How they got away
One source noted that the suspected perpetrators escaped in "raizers" which are a kind of utility task vehicle (UTV). The main difference between these and an all terrain vehicle (ATV) is that the former is designed to sit two people next to each other and usually controlled by a steering wheel and pedal like a car. The spelling is probably wrong here, and one article spelled it "razer."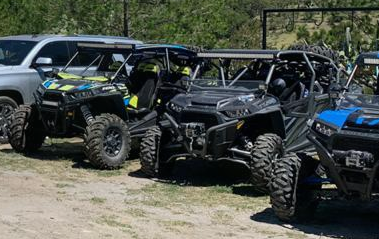 They could be speaking of the Polaris RZR Sport Side-by-Sides. Those things are fancy, priced on the low end at $10,000 and upwards of $25,000 on the high end. The kids version is five grand. They're all very capable off-road by default and quick, the expensive ones reaching upwards of 60-70 MPH.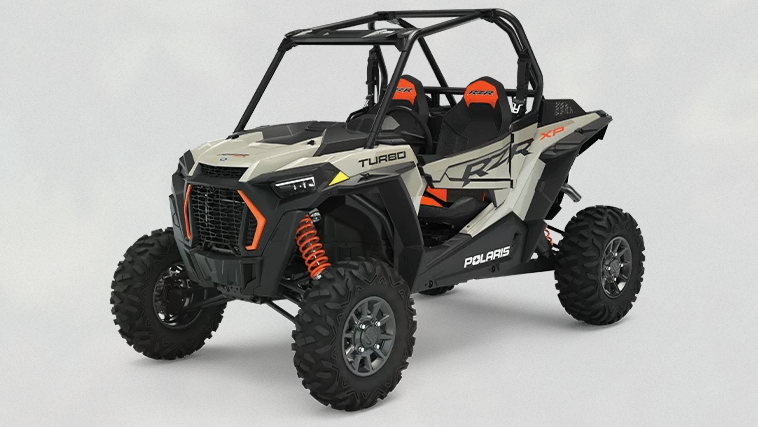 Point being that whomever was running that farm was well prepared to evade a raid by the security elements. Not only that, they were in vehicles that allowed them to head off into wooded areas that were unreachable to the authorities. It wouldn't be unlikely if from their vantage point on the farm they were able to see from afar the security elements closing in. After raids taking place in the early morning hours and the town flooded with law enforcement all throughout, they had plenty of heads up the situation was volatile.
Checkpoints were established at various points throughout the town near highways but no luck. Another benefit of UTVs, they can evade highways and checkpoints easily.
Two videos from the press give us a better sense of the terrain they're dealing with. I think sometimes it's easy to forget how difficult it is to navigate in some of these areas.
How To Interpret
A Facebook source provides the most comprehensive list of what was seized that I've seen thus far.
Also providing GPS coordinates: 21.351639, -101.674806
(30) Long guns of different calibers
(03) Barrett type 50 caliber weapons
(01) 50 caliber anti-aircraft machine gun
(06) 40 caliber grenade launcher attachments.
(05) Short weapons of different calibers.
(4000) Four thousand cartridges of different calibers.
(04) Smoke grenades
(12) Gas grenades.
(04) 40 mm caliber grenades
(250) Chargers of different calibers.
(03) saber-type steel swords.
(110) Tactical vests.
(28) Ballistic Plates.
(17) Tactical type brown helmets.
(01) Signal inhibitor.


Narcotics:
(25) Transparent plastic bags containing granulated substance with the characteristics of glass with an approximate gross weight of one kilogram each
(04) Transparent plastic bags containing a white powder with the legend mannitol, approximately one kilogram each.
(22,705) Transparent plastic wrappers (doses) containing a granular substance with the characteristics of glass
(150) Plastic wrappers (doses) with white powder (not determined pending expert opinion).
(31) Bags which contain a total of 835 transparent plastic wrappers (doses) with green vegetables with the characteristics of marijuana
(11) Bags containing a white solid substance apparently a precursor.
(20) Plastic drums with a capacity of approximately 50 liters containing brown liquid
(47) Glass jars with a capacity of one liter each, in brown with the legend acetone.
(38) Glass jars with a capacity of one liter each bottle with the legend ethyl ether.
(05) Stainless steel machine parts, apparently for drug processing.
Total weight of green vegetable apparently marijuana: 6 kilograms
Total weight of white powder (not determined pending expert opinion): 6.15 kilograms
Total weight of crystalline powder: 10 kilograms
Total weight of granulated pieces: 25.20 kg


Objects:
(01) Open gray safe.
(01) Black closed security safe.
(05) license plates.


Livestock:
(12) Horses
(02) Donkeys
(04) Goats
(02) Bighorn sheep


Vehicles:
(02) Armored vehicles
(04) Motor vehicles
(03) All terrain Raizzer type vehicle.
(01) ATV.
(01) Motorcycle.
It's obvious that whoever was operating that farm had money. They had multiple UTVs that aren't cheap, those GMC large SUVs aren't cheap and it was supposedly armored, and all the guns. What is always interesting in these cases is that it's common for them not to arrest anyone. It's easy to understand how these guys were able to get away but if that is the case then maybe the operation needed to be conducted differently.
I don't know what typically happens from an investigative stance next. You would assume from what was seized that this would be a prime place of investigation in combating organized crime. Being that it is also right along the border with Guanajuato and how CJNG has infested that state as of late, this farm could have been a sort of launching zone for them, instead of setting up shop within Guanajuato.
This gives us some idea of the organization of it all. CJNG was able to find safety on a wealthy farm. Giving less of the impression that all of this chaos is done solely at the hands of a bunch of delinquents.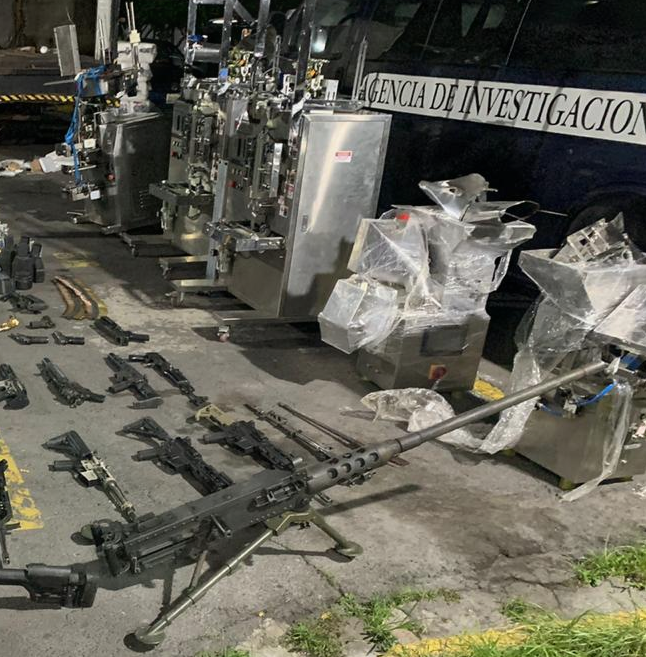 We don't have any clear idea of the exact reasons all of this started. There are multiple articles reporting that things were kicked off by an anonymous complaint. Which sure could have had something to do with it but it's hard to see how a single anonymous complaint kicked off such an intense response. Of course it could have been multiple complaints over the course of a couple weeks that made the authorities finally react.
They did also come up with fancy drug manufacturing equipment. I'm not skilled enough to tell what each device does. I believe the smaller ones on the right are pill presses. You pour the powder into the top open chute. The other machines could be doing the same. They could also be mixing precursors or making them. These machines most likely came from China, similar ones exist all over Alibaba that we've talked about in the past.
It's hard to say what will come of all this. CJNG most definitely has dozens of farms scattered throughout with similar caches. So it's hard to conclude that this operation alone is going to have much affect. I assume it will more or less just cause them a temporary headache while they move equipment to new locations. It will be interesting though to observe if in the coming weeks anything else in that area is revealed from the information they've gathered here.
---
Sources:
[1] https://www.am.com.mx/guanajuato/noticias/Decomisan-arsenal-en-Comanja-de-Corona-gracias-a-denuncia-anonima-20201001-0059.html
[2] https://guanajuato.lasillarota.com/estados/localizan-armas-de-guerra-y-80-chalecos-militares-en-comanja-de-corona-armadas-fusiles-vehiculos-armas-largas/440314
[3] https://periodicocorreo.com.mx/desvinculan-presunto-narco-laboratorio-en-los-limites-de-jalisco-y-leon/
[4] https://paginacentral.com.mx/2020/10/01/implementa-guardia-nacional-fuerte-operativo-en-comanja/
[5] https://www.milenio.com/politica/comunidad/guanajuato-asegura-gn-armas-barret-arsenal