The Governor of Tamaulipas, Francisco Javier García Cabeza de Vaca (PAN), amassed a fortune of $951 million pesos (approximately $43 million USD), as documented by the Attorney General's Office (FGR).
This amount is $901 million pesos higher than the $50 million declared by the Governor in 2016.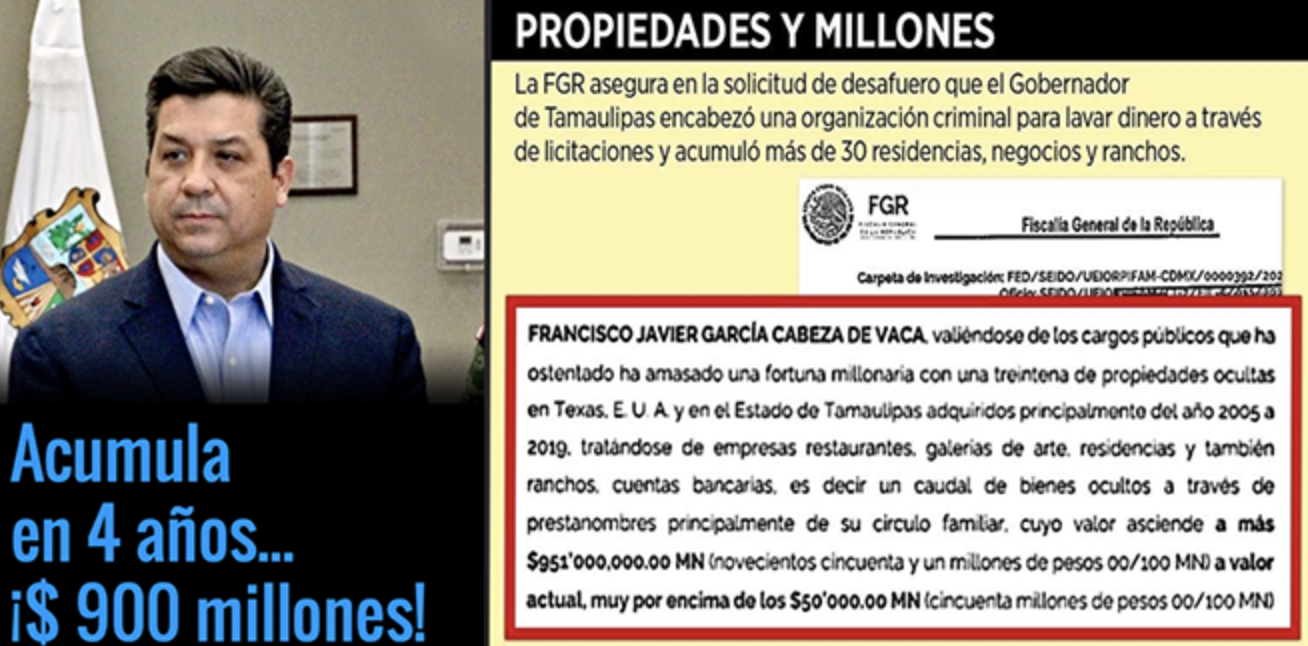 In its 103-page affidavit presented to the Chamber of Deputies, the FGR documents the history of García Cabeza de Vaca from before he was Mayor of Reynosa until his years as Governor.
The agency points out that in 2016 the Governor now accused of organized crime declared $50 million pesos of assets in his possession.
However, the Prosecutor's Office documents the acquisition of restaurants, art galleries, residences, ranches and bank accounts that it calls "a wealth of hidden assets", the value of which amounts to $951 million pesos.
"During the period from 2016 to 2019", affirms the FGR, "the investigated Francisco Javier García Cabeza de Vaca, in his capacity as Governor of the State of Tamaulipas, formed an organization and designed a racket that was operated from within the state government for the purpose of benefiting family members and third parties with public resources, through tenders, to later disperse them through legal entities, partners and direct beneficiaries to launder said resources".
According to the Prosecutor's Office, the money obtained from the alleged illicit operations was dispersed by the Governor in the bank accounts of seven family members and the company Productora Rural y Agropecuaria Regional Cava.
In the indictment, the Prosecutor's Office states that between 2016 and 2018, the García Cabeza de Vaca Administration awarded three contracts for more than $56 million pesos to two companies owned by Baltazar Higinio Reséndez Cantú, whom it warns is suspected of money laundering by American authorities.
Notwithstanding those contracts, Reséndez Cantú did not report income to the SAT, that is, it declared in zeros.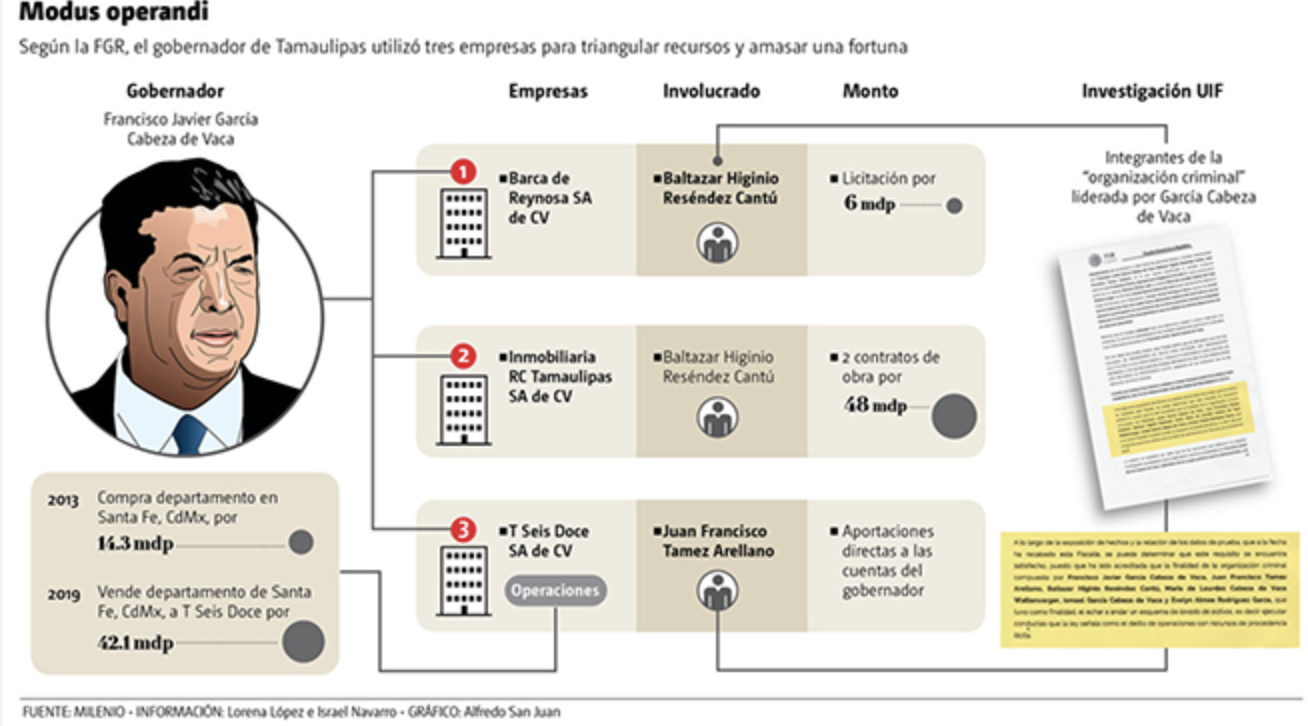 According to the Prosecutor's Office, between March and April 2018, the contractor in turn transferred $33,553,000 pesos to Juan Francisco Tamez, the majority shareholder of T Seis Doce, a front company without no physical address or income reported between 2014 and 2018, and which does not report any employees despite being registered with the IMSS.
In 2019, according to the investigation, García Cabeza de Vaca, without having a documented business relationship with the company T Seis Doce, received from it several deposits of millions of dollars.
"[T Seis Doce] would have been incorporated for the sole purpose of allowing resources to pass through the financial system, simulating commercial operations to give them the appearance of legality," says the FGR, "and subsequently incorporate them into the national economy."
The FGR also attributes to García Cabeza de Vaca a fraud to the treasury of at least $6,511,077 pesos.
---
Translation of an article originally published on March 5, 2021 in Reforma and republished by Valor Tamaulipeco