The following is a translation from a story published on January 26, 2016 in Proceso by Álvaro Delgado
MEXICO, DF (apro) .- Imprisoned in Texas for theft of weapons, accused of ties with the Gulf Cartel, partner of Marta Sahagún's children and representative of Felipe Calderón, Senator Francisco Javier García Cabeza de Vaca will be the candidate of the National Action Party (PAN) to the government of Tamaulipas.
Ricardo Anaya, president of the PAN, made the senator's candidacy for unity official after a meeting at the national headquarters, in which Norma Leticia Salazar Vázquez, Maki Esther Ortiz Domínguez and Carlos Enrique Canturosas Villarreal declined in his favor.
The national PAN reported that "the four candidates for governor agreed to promote the candidacy of the senator [and] there is full confidence that with García Cabeza de Vaca Tamaulipas he will know the alternation that he needs so much to change the quality of life of your families".
The National Action statement indicates: "After a thorough analysis and extensive dialogue between the leadership and the candidates, it was determined to close ranks around the candidacy of Francisco Javier Cabeza de Vaca and build a strong proposal that suits the people and capable of ending more than eight decades of bad PRI governments, which have allowed terrible levels of violence and insecurity in the state."
However, the senator and former mayor of Reynosa drags a long list of scandals that also surfaced six years ago, when for the first time he was a candidate for governor of Tamaulipas with all the support of Calderón, whose presidential campaign was the link with 430 mayors.
García was imprisoned in 1986 in McAllen, Texas, for theft of weapons (file 03645237) and was a partner of the brothers Manuel, Fernando and Jorge Bribiesca Sahagún, with whom he did millions in business with and whose relationship he has not hidden.
"Yes, they are my friends and I get along very well with them, I will not deny it, but I am only united by a friendship," he told  Proceso  in 2009 about Marta Sahagún's children, who accompanied him in his inauguration as mayor of Reynosa, on January 1, 2005.
Ismael García Cabeza de Vaca, brother of the new PAN candidate for governor, is associated with Sergio Amaury Flores Pérez, one of Manuel Bribiesca's closest friends.
In the political and personal environment of García Cabeza de Vaca there are also organized crime figures such as Osiel Cárdenas Guillén, who was authorized to use the facilities of the Adolfo López Mateos baseball stadium to celebrate Children's Day.
As mayor of Reynosa, García was no stranger to drug trafficking scandals: on January 3, 2005, for example, the body of his chief of bodyguards, René Izaguirre, was found on the highway that goes to Monterrey. He had been missing since December 31, 2004.
Izaguirre worked for several years under the orders of his brother-in-law Guillermo González Calderoni, the Salinas police officer executed on February 5, 2003 in McAllen, Texas. Days before his death in Reynosa, Izaguirre had announced that he would be coordinator of municipal Public Security. His death was attributed to the Gulf cartel, based in Tamaulipas.
Already linked to García Cabeza de Vaca, Izaguirre received several messages from drug trafficking that he seemed to ignore: Raúl Guerra, his brother-in-law, had been executed; Another brother-in-law, Jorge Guerra, fled after his house was searched by military personnel who were investigating him for drug trafficking in vehicles on which he superimposed logos of the parastatal Petróleos Mexicanos (Pemex).
A file prepared by the then Deputy Attorney General's Office for Specialized Investigation in Organized Crime (now SEIDO), information from which was obtained by Proceso, states: "It is reported that (René) Izaguirre was picked up three or four days after Cabeza de Vaca met at the Embassy Suite in McAllen, Texas, with two individuals who handled the finances of drug traffickers in Reynosa […] The fact seems to be the product of an unfulfilled promise by Francisco Javier Cabeza de Vaca that he would be a determined criminal gang [presumably the Gulf cartel] which would appoint the deputy director of the Reynosa Municipal Police and not the [municipal] administration, a commitment that supposedly was acquired in reciprocity to the large amounts of money from drug trafficking that financed the current mayor's campaign.
The alleged relations of the then mayor García Cabeza de Vaca with the Gulf cartel became evident in 2005, when the city council that he presided over granted permission for the capo Osiel Cárdenas Guillén - imprisoned at that time in the La Palma prison - could celebrate Children's Day for about 20 thousand infants in the Adolfo López Mateos baseball park. In the celebration, 22 thousand toys, 150 bicycles and hundreds of cards signed by Cárdenas Guillén were distributed in which the legend stood out: "Study is the key to success."
After the scandal, the Attorney General's Office (PGR) summoned several municipal officials to testify. Questioned about it, the mayor declined: "We granted a permit, but we did not know who the organizers were."
Paradoxically, a week before the event organized by Osiel Cárdenas, the city council denied a permit to Radio GAPE for the Mother's Day celebration, which it had been organizing for 15 years.
According to a note published by the newspaper Metrópoli on January 11, 2007, the PGR began investigating city council personnel, including María del Carmen Rojas Bernal, who days prior to the celebration of Children's Day had been appointed director of municipal Public Security.
Another of his most trusted men was arrested on August 12, 2006 in San Juan, Texas, with 25 kilos of cocaine: Alfredo Leal Guerra, former operational deputy director of municipal Public Security. At the time of his arrest, he was part of the private security team of García Cabeza de Vaca, who was already a local deputy.
The arrest occurred when agents from the Special Anti-Drug Tactics Group searched Leal Guerra's vehicle. According to the report, inside the bodyguard's black Ford Expedition, the police found "a large plastic bag" in which the drug was hidden, with a value of about $400,000.
Once again, García Cabeza de Vaca denied having ties to the alleged cocaine trafficker: "He is not part of my bodyguard detail," the current PAN candidate for the Tamaulipas government said repeatedly. However, on July 5, 2009, several media published photographs in which both appear in open talk.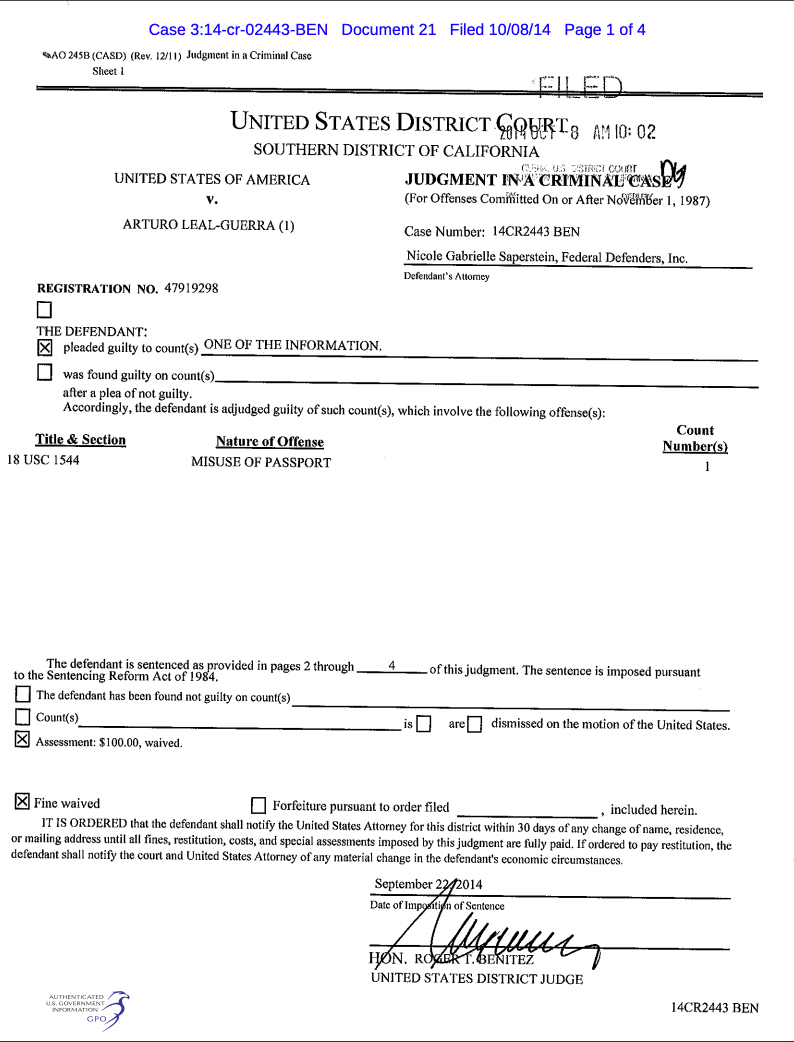 The Bribiesca brothers
Francisco Javier García Cabeza de Vaca was linked to smuggling "and extortion of textile importers"—presumably in association with the Bribiesca Sahagún brothers—in 2000, when he was a federal deputy, according to a complaint by María Leticia Ramos Esparza, a member of the Green Party Ecologist from Mexico and former representative of a customs agency, imprisoned for alleged acts of extortion.
Dated 2002, a letter from Ramos Esparza says:
"In 2002 I was notified by the Ministry of Finance that some women's jackets imported by a local customs agency had been incorrectly classified.
"In my capacity as representative of said customs agency, I tried to find a fair solution through the federal deputy Francisco Javier García Cabeza de Vaca, a member of the Finance and Border Affairs Commission of the Chamber of Deputies.
"I went to Mexico and during the conversation I had with him, he asked me, among other things, who were the importers of imperishable products that the Reynosa customs used. I told him who the main importers were and then he asked me how many operations were carried out weekly, to which I answered 500".
As of that date, according to Ramos Esparza, Congressman García Cabeza de Vaca collected fees from "all" importers. Those who did not agree to extortion were blocked.
Today, in the solitude of a cell in Cereso de Reynosa, victim of her fear of being discovered, she reflects and regrets having given Cabeza de Vaca that information in good faith.
"And from here I speak to you, Francisco Javier, so that from wherever you go enjoying undeserved freedom which you deny me. But I also ask you what you are going to live on, if what you live on is the quotas that you imposed on all importers of perishables, textiles and liquors..."
Between 2002 and 2005, García Cabeza de Vaca was associated with the Bribiesca Sahagún brothers in other businesses, such as obtaining radio concessions. The link was Amaury Flores Pérez, who was its director of municipal Transit in the Reynosa City Council.
Flores Pérez studied with Manuel Bribiesca in Celaya, Guanajuato, where they struck up a close friendship. Flores Pérez lived one season in Guanajuato and another in Río Bravo, Tamaulipas.
Soon, the trio García Cabeza de Vaca, Flores Pérez and Manuel Bribiesca focused their efforts and took advantage of their political influence to conduct various businesses.
With the support of the Bribiesca, García Cabeza de Vaca created the companies Compañía Difusora del Noroeste de México and Corporativo Radio del Norte (in which Ismael, Francisco Javier's brother appears as a partner), whose corporate purpose is to obtain radio and television concessions, national and international satellite earth stations, as well as conducting advertising, socioeconomic and marketing research, among other purposes (Proceso 1533).
They were joined by two of García Cabeza de Vaca's closest collaborators when he was mayor of Reynosa: Miguel Ángel Villarreal Ongay (technical secretary) and Horacio Ortiz Renán (secretary of the City Council).
Villarreal Ongay became a partner of Corporativo Radio del Norte, according to the articles of incorporation formulated before the notary public 147 of Reynosa, Emma Alicia Treviño Serna, on October 24, 2005 (record 3393, volume CXXII). Meanwhile, Ortiz Renán appeared as a partner of the Compañía Difusora del Noroeste, according to the charter of November 8, 2005 (number 219, volume III), formalized before Public Notary 274 of Reynosa, Tamaulipas.
As if that were not enough, Manuel Gómez Reséndez and Manuel Gómez García, father-in-law and brother-in-law of García Cabeza de Vaca, respectively, are investigated by the PGR for the alleged theft of fuel to the detriment of Pemex, as recorded in the preliminary investigation PGR / TAMPS / king-1/519/05.
In this investigation it is established that the company Intertransport Inc., SA de CV "stored a fuel that emanates from the natural gas wells that Pemex drills and is trafficked on the black market due to its low cost."
Francisco Javier García Cabeza de Vaca has been able to combine business with politics well: since 2002 various companies have been attributed to him that he uses to obtain public works contracts, in alleged partnership with the Bribiesca brothers and their relatives.
It is related to the companies Grupo Inmobiliario Cava, SA de CV, whose representative is Mrs. María de Lourdes Cabeza de Vaca Wattenbarger, her mother, and with Sierra Gorda Construcciones, SA de CV, whose operator is Salvador González, who was the supplier of the Reynosa town hall.